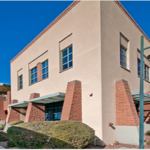 TUCSON, Arizona – BodyCentral Physical Therapy (Jennifer L Allen) purchased two office condominium spaces at 1640 East River Road in Mesquite Corporate Center in Tucson for $801,528 ($168 PSF).
The total 4,771-square-feet in this class A complex was built in 2001 and 1,361-square-feet was leased to Bon Voyage Travel when it sold. BodyCentral will occupy the remaining 3,410-square-feet for Body Central Physical Therapy Sports and Wellness Center.
Founded in 2001 and locally owned, BodyCentral Physical Therapy has grown rapidly. This will be its seventh clinic in Tucson providing treatment for all musculoskeletal problems. They also have special programs and lecture series on health and wellness, fit for surgery programs, pregnancy wellness, and osteoporosis prevention to name a few.
Janine Clayton Irvin, CCIM, and Mark Irvin, CCIM, of Mark Irvin Commercial Real Estate Services in Tucson represented the seller, Charles Pitts, and Aaron LaPrise of Cushman & Wakefield | Picor in Tucson represented the buyer.
For more information, Janine and Mark Irvin should be reached at 520.620.1833 and LaPrise should be contacted at 520.546.2770.
To learn more see RED Comp #4968  or visit RED Listing Registry for more properties such as this still available.