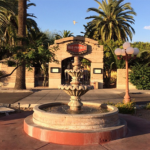 HSL Properties of Tucson (Omar Mireles, vice-president) through an affiliate, HSL 60 N Alvernon, LLC, purchased the former Old Pueblo Grill restaurant at 60 North Alvernon in Tucson for $1.2 million ($147 PSF). The 8,147 square-foot building on 1.72 acres is located northeast of Broadway and Alvernon.
The historical building, built in 1957 and remodeled in 1977, was once a residence with three towers where peacocks strutted their colors around the fountains and  the gardens. The restaurant has always had a Southwest menu as far back as we could find and seating inside or out on the expansive patio.
The very popular restaurant and bar was closed May 29th after a U.S. bankruptcy court seized the property as part of an unresolved bankruptcy involving other properties of the previous owner.
Located adjacent to HSL's headquarters at 3901 N Broadway, at the northeast corner of Broadway and Alvernon, the buyer also owns the La Quinta Inns and Suites-Reid Park Hotel on the north side of the restaurant, at 102 N Alvernon Way.
Omar Mireles told us that the restaurant was greatly missed by the hotel since it closed and it is important for hotels to have restaurants nearby. For this reason, HSL purchased the building with plans to restore it to full restaurant use after some renovations, and as soon as possible.
Mireles says they already have had interest from several potential restaurant operators for the property.
HSL is well known for its multi-family housing in the Southwestern United States. In addition to multi-housing rental properties, HSL Properties currently owns and manages four hotels, offering a total of more than 900 hotel rooms. HSL hotels focus on excellent service and top-quality accommodations in well-situated locations that appeal to both business and pleasure travelers.
Pat Darcy of Tucson Realty & Trust Co. represented the buyer in the transaction and the seller was represented by court appointed, Keegan, Linscott & Kenon, a CPA firm in Tucson.
To learn more Darcy should be contacted at 520.577.700 and Mireles can be reached at 520.322.6994.
For additional information RED Comp #3197 is available.