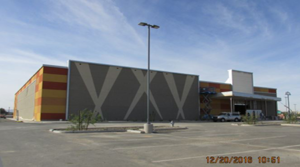 Spirit Realty Capital attracted to Tucson Marketplace at the Bridges Buys Second Investment Property Here
TUCSON, Arizona - Spirit Realty Capital (NYSE: SRC) of Dallas Texas, one of the largest publicly traded triple net-lease real estate investment trusts (REITs) acquired the brand-new Dave & Buster's Sports Bar at 1390 E Tucson Marketplace Blvd. in Tucson for $10.2 million ($339 PSF) for its portfolio. The all-cash deal closed on March 31st.
Located on the south side of Tucson, this newly constructed 30,000-square-foot Dave & Buster's opened on April 3rd bringing with it 240 jobs. Located at Tucson Marketplace at the Bridges, this is the first Dave & Buster's location in Tucson and only the fourth in Arizona.
Dave & Buster's Entertainment, Inc., (NASDAQ: PLAY) founded in 1982 and headquartered in Dallas, Texas, is the owner and operator of 92 venues in North America as of January 2017. The concept is to combine entertainment and dining and offer customers the opportunity to "Eat, Drink, Play and Watch," all in one location.  Dave & Buster's offers a full menu of "Fun American New Gourmet" entrées and appetizers, a full selection of alcoholic and non-alcoholic beverages, and an extensive assortment of entertainment attractions centered around playing games and watching live sports and other televised events.  Dave & Buster's currently has stores in 33 states and Canada.
This is the second investment purchase at Tucson Marketplace for Spirit which also acquired the adjoining Century Tucson Marketplace-14 Theatres at 1300 East Tucson Marketplace Blvd. for $15.8 million in February. See full story here.
Spirit invests in single-tenant, operationally essential real estate: free-standing facilities where tenants conduct activities that are necessary for their sales and profits. Spirit has approximately 17% of its portfolio in Casual Dining and Quick Service restaurants.
Dave & Buster's at Tucson Marketplace was sold by Eastbourne Investments, Ltd of Toronto, Canada and New York, the developer of Tucson Marketplace.
Randolph Titzck and Chad Russell with Land Advisors Organization in Phoenix represented the seller, Eastbourne Investments. Chad Tiedeman and Steve Underwood with Phoenix Commercial Advisors represented Spirit Realty.
For more information, Titzck and Russell should be reached at 480.483.8100. Tiedeman and Underwood can be contacted at 602.957.9800.
Dave & Buster's are still hiring, employment applications can be found at daveandbusters.com/careers.
To learn more, see RED Comp #4701.