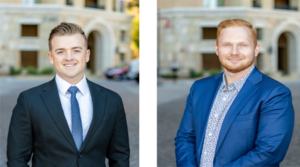 SCOTTSDALE, AZ (December 20, 2022) - ORION Investment Real Estate (ORION) welcomes Garrett Hemeyer
and Colt Siler as Senior Associates to its growing roster. Garrett and Colt bring several years of combined experience in land and multifamily real estate. They have an established track record of transactions while providing clients with detailed financial projections and creative acquisition strategies.
"Part of our mission at ORION is to nurture young talent. Garrett and Colt are rising stars in this industry, and we're excited to support them with all the tools in our toolkit," said Ari Spiro, ORION's resident.
Garrett and Colt met while working on land deals at City to City in Phoenix. There, Garrett started as an apprentice and quickly ascended through the ranks to become a licensed real estate agent with several listings to his name. Colt joined City to City in 2021, after graduating Magna Cum Laude from Arizona State University's W.P. Carey School of Business with a B.A. in Finance. At City to City, he guided clients throughout entitlement and development processes before expanding to the existing asset side of investment sales.
Drawn to the faster pace of multifamily real estate, Colt and Garrett left City to City to form a business partnership focused on that space. After hearing positive feedback about ORION and meeting its agents and founders, they joined the brokerage.
"ORION gives us incredible marketing support to find deals and pitch them far and wide," Garrett says. "We've already learned so much here and have set our sights on picking up our first investment property," adds Colt.

"Colt and Garrett bring financial acumen and unfailing optimism about Arizona's real estate market. We're excited to see what they accomplish as part of the ORION team," said Sean Stutzman, Principal at ORION.
PHOTO: Garrett Hemeyer (left) and Colt Siler (right)