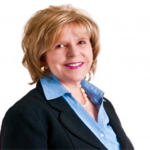 ORION Investment Real Estate is proud to announce that Judi Butterworth joined the firm as Senior Vice President in February.  Judi has been leasing and selling shopping centers for more than 35 years.  Consistently a top producer, Judi has closed over half a billion dollars in transactions, inclusive of big box re-leases, shopping center sales, outparcel sales, and tenant/landlord representation leases.  She consults with owners of retail properties to maximize the value of their assets, and creates virtual leasing and sales teams to better serve owners in general.
"We are fortunate to have Judi as part of our growing retail leasing team.  There are few agents in the southwest who can boast the success that Judi has achieved," said Ari Spiro, ORION's President.  "She has an unmatched reputation for both her character and as an industry leader," Spiro continued.
Judi's had copious achievements over the years.  Her most notable industry awards include: 2015 Most Influential Women in the Southwest – Real Estate Forum Magazine; CoStar Power Broker, multiple years; People to Know in Commercial Real Estate – AZRE Magazine, multiple years; 2014 Most Influential Women in Commercial Real Estate – AZRE Magazine; Top 25 Businesswomen of 2011 – Phoenix Business Journal; NAIOP Broker of the Year, Broker of the Month – Commercial Executive Magazine.
She is known for her superior market knowledge, integrity, work ethic, and negotiating skills.  "Judi's passion for the commercial real estate business is contagious! We're excited to add her energy and breadth of experience to the ORION team," noted Sean Stutzman, Principal at ORION.
Judi Butterworth moved to ORION to continue selling and leasing shopping centers.  "ORION is building a retail leasing platform to maximize shopping center values through leasing.  We already have a superior shopping center sales platform, so, combining the two capabilities provides the very best customer service possible for retail owners," Judi remarked.