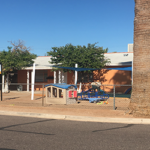 PHOENIX - ORION Investment Real Estate facilitated the sale of a fully occupied, freestanding building for $385,000, or $196 per square foot. Selling at a 10.3% cap rate, the building was NNN leased to a local daycare operator, who currently has two other locations, and went under extensive renovations in 2017.
The property is located within a residential neighborhood in East Phoenix, off of 30th Street between Osborn and Thomas Road. The SR-51 Freeway is located less than one mile to the east of the property. Phoenix Children's Hospital is also located less than one mile away.
Nick Miner, CCIM, and Jennifer Eggert of ORION Investment Real Estate represented both sides of the transaction. Miner said, "This was a win-win situation for both Buyer and Seller. This is a great first property for an investor getting into commercial real estate with little downside and a good return going in."
The Seller was RSK Investors, LLC. The Buyer was locally-based Reddy Partners, LLC.
This was the Buyer's first venture into a commercial real estate transaction and liked this property because of its location within the neighborhood. The fact that the potential downside could be offset by the rising residential market in the immediate area was enticing and offered great return for the property.
For more information on this and other high return daycare centers for sale, Miner and Eggert should be reached at 480.634.6934.