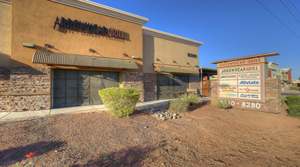 Glendale, AZ –ORION Investment Real Estate is pleased to announce the closing of Union Hills Square, a 11,960–square-foot multi-tenant retail pad, located in Glendale, Arizona. It sold for $4.7 million ($392 PSF) from CC Fund 1 Union Hills, LLC to AXG Com 1, LLC
"This is the second time ORION has sold this asset," says Andrew Harrison, Senior Vice President at ORION. "We initially brokered the asset to the seller in 2014 in an auction format from the lender for approximately $2.8 million. The partners decided to sell the asset and capitalize on the investment," explains Harrison.
Union Hills Square was fully leased at close of escrow and is anchored by the Arrowhead Grill, who has won multiple awards from Wine Spectator, OpenTable, and Phoenix Magazine.
The property has excellent access from Union Hills. It receives over 41,000 vehicles per day on Union Hills Drive and 122,000 vehicles passing on the 101 Freeway. The property benefits from neighboring power center Northwest that includes Walmart, Sam's Club, LA Fitness, and Starbucks, to name a few.
Andrew Harrison of ORION Investment Real Estate in Scottsdale negotiated the transaction. Andrew focuses on investment sales of multi-tenant commercial properties. He can be reached at 602-889-9379.