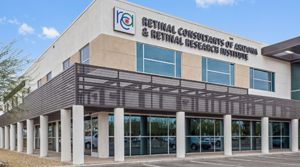 PHOENIX, Arizona – Located immediately off Interstate 17, near the loop 101 interchange, the destination eye specialty MOB/ASC facility, developed for and occupied by Arizona's leading ophthalmology practices, was recently acquired by Montecito Medical Real Estate of Nashville, Tennessee. ORION Investment Real Estate facilitated the sale for $14.42 million or $392 per square-foot, setting a high watermark for the asset class within the Metro Phoenix market, absent an investment grade guarantor.
The newly re-developed 36,796-square foot-building is fully occupied by two new, long-term, net leases with two world renowned specialty practices with multi-decade histories and numerous awards and peer recognition for treatment and procedure innovation:  Retinal Consultants of Arizona (RCA), occupying 72% and Spectra Eye Institute, the remaining 28%.
This, RCA's flagship location, combined with their 35+ clinical and satellite offices throughout the state, makes RCA the largest clinical, surgical and academic private practice and research institute treating conditions of the retina, macula and vitreous in Arizona and the 5th largest in the country. This location also represents the largest, most advanced clinical, surgical, and retinal research institute in the nation.
Spectra's 9,200 square foot suite is their second comprehensive ophthalmic surgical care outpatient surgical center in the Valley and is set up for comprehensive, outpatient surgical eye care and will handle a variety of operations such as cataract, retina and cornea procedures. The facility includes four state-of-the-art operating theatres, six pre-operative beds, and nine post-operative beds.
Braxton Glass and J.T. Taylor of ORION Investment Real Estate represented both the Seller and Buyer respectively. Taylor noted, "The Buyer was very excited about aligning with one of the largest and renowned ophthalmology groups in Arizona, while expanding their presence in the Phoenix market. This acquisition is an asset that perfectly complements the Buyer's core strategy."
Glass stated, "This asset was an adaptive redevelopment of a defunct former Bally fitness center, into a destination, Class A specialty eye practice Medical Office Building, incorporating state-of-the-art outpatient surgical capabilities within the facility. The new facility's capabilities and location were selected for convenient access and care delivery to patients of both practices, who travel from across Arizona, as well as internationally, seeking the World Class care and outcomes for which RCA and Spectra are both internationally recognized. It is a truly unique asset in this market, as was reflected by the national scope of Healthcare CRE Investor interest in the offering."