Oro Valley's July 4th Celebration and fireworks moves to James D. Kriegh Park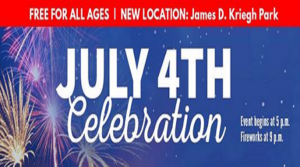 Oro Valley, Arizona – Join the Town of Oro Valley at James D. Kriegh Park for its July 4th Celebration and fireworks show at a new location. Spectacular fireworks launched right over the park, live music and more than 20 food trucks.
For the second year, the presenting sponsor for the 2019 July 4th Celebration and fireworks is HSL and El Conquistador, a Hilton Resort.
The FREE, family-friendly fun begins at 5 p.m., with live entertainment and activities for kids. At 9 p.m., buckle up and hold on for the BOOM! This is your opportunity to have front row seats for a spectacular fireworks show! Click here to download the event map.
WHEN
Thursday, July 4, from 5 to 9:30 p.m.
LOCATION
James D. Kriegh (JDK) Park, 23 W. Calle Concordia, Oro Valley, AZ 85704
PARKING
Parking will be available at JDK Park, Oro Valley Aquatic Center, and Canyon Del Oro High School. On-street parking will be allowed on the south side of Calle Concordia for the duration of the event. Access to Egleston from Linda Vista will be closed at 4 p.m.
If you park in the CDO High School parking lot, please follow the pathway markers and fences to get to the event. Please avoid crossing through CDO High School facilities. For additional overflow parking lots, click here to view parking map.
PEDESTRIAN/BICYCLE ACCESS
If you live in one of the neighborhoods surrounding JDK Park, you can avoid the parking and traffic by walking over at your convenience.
ENTERTAINMENT LINEUP
5–6 p.m.                      DJ Music
6–7 p.m.                      Live music: Little House of Funk
7–7:45 p.m.                 Games and giveaways with Frank!Powers
7:45-8:45 p.m.             Live music: Little House of Funk
8:45-8:55 p.m.             Welcome from Mayor Winfield
8:55 p.m.                     National Anthem
9 p.m.                          Fireworks
FREE ACTIVITIES: backyard games for all ages, obstacle courses, photo booth, face painting, arts & crafts, giant bubble balls and jumping castles
FOOD TRUCKS: American Flying Buffalo, Angela's Mexican Food, Bella's Gelato Shoppe – Tucson, Burgerrito, Cafe Francais, Chanakan's Thai Station, The Dragon Pizza Co., Fiesta Filipina, Fruit Shack Smoothies & Yogurt, Gigi's Fusion Food Truck, Jackie's Food Court, Kababeque Indian Grill, Little Boler Beanery, Tucson Kona Ice, Kool Twists (Eegee's), Los Locos Tacos, Mutt's Brats, POPPED Artisan Popcorn, Ricuras de Venezuela, The Donut Stand, The Mobile Bistro, Tucson Curry Pot and the CDO Little League will be selling BBQ and food.
BEER & WINE AVAILABLE
Purchase domestic and craft beer and wine, sponsored by Oro Valley Sports Alliance and Hensley Beverage Company. 50% of the proceeds will benefit the Town of Oro Valley for the installation of a play structure at Naranja Park. ID required.
IMPORTANT SAFETY TIPS & RULES
It will be hot out there, so hydration, sunscreen and shade are important. While we encourage everyone to bring adequate water and sunscreen, in case you forget (or run out), we've got you covered! Free water and sunscreen will be available at hydration stations.
For your safety, and the safety of others, the following are NOT permitted at this event:
No pets
No outside alcohol
No smoking
No tents
No glass containers
No personal fireworks; no sparklers
DO YOU LIVE NEAR JDK PARK?
While fireworks are exciting for many people, we understand that some individuals and pets are sensitive to loud noises. Residents who live in the neighborhoods surrounding JDK Park should take necessary precautions to ensure the safety and well-being of their pets.
THANK YOU TO OUR SPONSORS
Presenting Sponsor, HSL and El Conquistador, a Hilton Resort
Print Media Sponsor, Tucson Local Media
Sparkler Sponsor, Pima Federal Credit Union
Community Sponsors, Coldwell Banker Residential, Lloyd Construction, The Canyons at Linda Vista Trail, Visit Tucson
OTHER JULY 4th ACTIVITIES IN ORO VALLEY
ORO VALLEY AQUATIC CENTER
23 W. Calle Concordia
Enjoy reduced admission on July 4th, from 5 to 8:30 p.m. $1 for children and $3 for adults.
Have fun on our interactive splash pad, giant waterslide and diving boards. Games and prizes. Please note, the Aquatic Center will be closed on July 4 from 1 to 5 p.m. in preparation for the festivities.
JULY 4th STARS & STRIPES BBQ DINNER
At the Overlook Restaurant and Oro Valley Community Center, 10555 N. La Cañada Drive
5:30-8:30 p.m.
Adults, $25
Children ages 5-12, $12
Children under 5 years, FREE
Celebrate July 4th with an All-American classic BBQ, featuring beef brisket, BBQ chicken, coleslaw, potato salad, ice cream sundae bar and much more. Kid friendly. Children's activities will not be available at this event. Reservations recommended. Call 520-229-5355.
FOLLOW US ON SOCIAL MEDIA
Make sure you're getting the latest updates on safety and parking tips, and details on the live entertainment and delicious food trucks! Follow Town of Oro Valley – Government as well as Oro Valley Parks & Recreation on Facebook. Let your friends know where you'll be this 4th of July by finding our event on Facebook and clicking that you're "Going." Be sure to invite your Facebook friends!