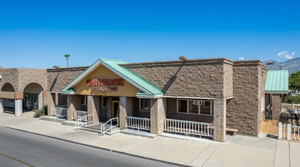 TUCSON, Arizona – Outback Steakhouse at 4871 E Grant Road in Tucson sold in a sale leaseback to Incommercial Net Lease of Chicago, Illinois for $4.215 million ($642 PSF). The seller, an Outback franchisee, was Limestone Outb AZ, LLC of Miami, Florida (Joseph Sanz, Manager).
Built in 1995, the 6,561-square-foot Outback Steakhouse is strategically located at Grant Road and Swan (39,600 VPD), a major east/west commuter thoroughfare for Greater Tucson Metro. The asset is ideally positioned as an outparcel to the Crossroads Festival shopping center anchored by Fry's, Roadhouse Cinemas and Bed Bath & Beyond, promoting crossover traffic to the site. Other nearby national/credit tenants include Target, Costco, Whole Foods, Ross, Trader Joes, PetSmart further increasing consumer draw to the trade area. Additionally, the property sits adjacent to the Tucson Medical Center (641 beds), a regional hospital with over 30,000 inpatients and 120,000 outpatients annually, providing a direct consumer base to draw from. Moreover, the asset is just 4 miles northeast of the University of Arizona with over 44,000 students currently enrolled. The 5-mile trade area is supported by a dense population of over 275,800 residents with an average household income of $65,215.
Despite how much the casual-dining industry struggled during the pandemic, Outback's parent company, Bloomin' Brands is thriving, with same-store sales surpassing pre-pandemic levels, up 12.1% for the second quarter ending June 27 compared with 2019, and up 84.6% compared to 2020 at the height of the COVID-19 pandemic, according to earnings numbers. Sales volumes also exceeded 2019 levels.
CEO David Deno attributes this sales momentum that has moved beyond recovery from last year to surpass pre-pandemic levels of growth to their multichannel sales mix. Bloomin' Brands began offering delivery five years ago and put digital marketing efforts into place shortly after that so they were ready to take advantage of the changing industry needs when the pandemic hit.
"You have to be a multichannel restaurant company these days," Deno told Nation's Restaurant News. "You have to have great dine-in service, a really terrific carryout offering and you have to be able to do delivery. I think we're well-positioned as a company to do all three of those. You have to have the technology and equipment to make it happen, so we're investing a lot of time and effort on supporting those lines of business."
During the second quarter, Bloomin Brands' attributed 28% of total revenues to digital sales, showing how much their sales mix has grown since the pandemic. Adding to that momentum was the launch of the new Outback Steakhouse app last month, with new features coming that are designed to help accelerate off-premises sales further.
"Customers want to be treated special," Deno said. "Not so much with discounts, but if we could get more product offerings to our heavy users earlier, we could get them special seating and a more customized experience, I think that would be really important."
Deno said that they are using the Outback app as a baseline to test out the technology before it migrates to their other brands. He added during the earnings call that they are looking into other digital technology features but declined to extrapolate further.
In addition to off-premises and technology investments, Deno also continues to attribute Bloomin' Brands' success to the fact that they did not lay off any employees during the pandemic, which helped them stand out from competitors.
"I go into our restaurants and people literally come over to me crying, thanking me for what we did [with no layoffs]," he said. "As a result, engagement is high and turnover is low. There are some staffing issues from time to time, but I don't think we have the same issues as our competitors have."
Patrick Luther and Mathew Mousavi of SRS Real Estate Partners in Newport Beach, CA handled the transaction.  Mousavi can be reached at 949.698.1116 for more information.
To learn more, see RED Comp #9150.