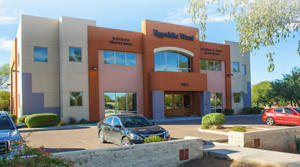 SCOTTSDALE, Arizona – ORION Investment Real Estate recently negotiated the owner/user office building sale, located at 8101 East McDowell Road in Scottsdale, for $2.2 million ($127 PSF). It consists of approximately 18,000-square-feet of office and warehouse space with three roll-up doors, situated in an excellent central location with easy access to the Loop-101, Loop-202, Scottsdale Road and Hayden Road. The property is located just east of the southeast corner of McDowell and Hayden Roads, in the bustling McDowell Road Corridor.
Judi Butterworth and Nick Miner, CCIM, of ORION Investment Real Estate facilitated the owner/user sale.
"This was a win-win transaction," said Miner. "The seller was able to downsize into the property under a lease back, while the buyer was able to have a tenant occupy a small portion of the property, as they grow into the entire property."
The seller was Republic West Real Estate Holdings, LLC. The buyer was Primos Development, LLC.