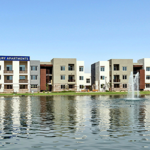 Launch Marks P.B. Bell's Third Luxury Community Opening in Eight Months
PHOENIX, AZ – P.B. Bell, a leader in multifamily housing development, management and acquisitions, has opened Velaire at Aspera, a luxury apartment community within the long-awaited Aspera mixed-use development in Glendale, Arizona. Velaire at Aspera is the third new community P.B. Bell has opened since late September.
Located at 75th Avenue and the Agua Fria Loop 101 Freeway, Velaire at Aspera offers 286 luxury apartment homes in a resort-like setting, with amenities that include a theater, dog agility park and dog salon, and a 2,000-square-foot fitness facility, in addition to a luxury pool and outdoor entertainment pavilion, and nearby recreational and sports opportunities. Velaire at Aspera offers one, two and three-bedroom floor plans ranging in size from 726 square feet to 1,281 square feet, all with modern features and both cool and warm aesthetic options.
"We're thrilled to be a part of such a diverse and thriving mixed-use community such as Aspera," Mike Trueman, P.B. Bell's vice president of development, said. "Velaire brings P.B. Bell's distinctive, luxurious standard of multifamily living to the West Valley in a way that complements its surroundings."
P.B. Bell opened The View at Cascade in Scottsdale in September, and followed that by opening Escape in Phoenix in March. In total, the three communities have added more than 700 new, luxury apartment homes to the Phoenix area over an eight-month period.
P.B. Bell CEO R. Chapin Bell said the company's burst of development activity reflects a multifamily housing market that is striving to keep pace with the needs of two influential groups of consumers: baby boomers and millennials. Both are seeking upscale, carefree living environments in prime locations across the Valley.
"Positive job and population growth are expected to keep the momentum going through the remainder of the year," Bell said.
Velaire at Aspera, a nearly 13-acre site cushioned on either side by two lakes, consumes most of the northern portion of the Aspera community's 75 acres, which will also support retail, healthcare and assisted living components. The Velaire at Aspera community will neighbor Banner Healthcare offices, a Mountainside Fitness, stores and restaurants, a senior living community, and Treasure House, a first-of-its-kind residential facility for young adults with intellectual and developmental disabilities, co-founded by former Arizona Cardinal Kurt Warner and his wife, Brenda.
In addition, Velaire at Aspera residents have pedestrian-friendly access to a retail center filled with neighborhood restaurants, financial institutions, and fitness clubs.