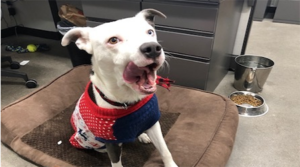 PIMA COUNTY –With temperatures expected to be in the 20s overnight, Pima Animal Care Center officials are encouraging pet owners to bring pets inside or provide adequate shelter.
"Think of it like this, if you feel too cold to be outside, it's too cold for them," said PACC Director of Animal Services Kristen Hassen. "Pets across Southern Arizona just aren't used to temperatures like this, so when they are left out in the elements, it can be deadly."
PACC's Animal Protection Services will make neglect calls a higher priority while the freezing overnight temperatures persist. Community members who see a pet without appropriate shelter should report it to PACC's animal protection dispatch at (520) 724-5900, extension 4. Officers will do their best to address these calls in a timely manner.
PACC is also offering tips for pet owners to help them protect their pets from the cold:
Bring pets indoors for the night.
For outdoor-only pets, make sure there is adequate shelter which not only provides overhead cover, but also protects from drafts and keep pets off the ground. Blankets and straw can both provide relief from the cold ground.
Put sweaters or coats on pets when they're outside in cold weather. Pets in Tucson are not used to freezing cold temperatures so pet clothing can help keep them warm while out on a walk.
License and microchip pets. If your pet becomes lost in dangerously cold weather, you'll want to get it back as quickly as possible. Check your tags and microchip to make sure the information is up-to-date or visit PACC to get or renew your dog license. If your pet needs a microchip, the shelter is holding a free microchip clinic now until Dec. 22 in the overflow parking lot.
The easiest way to protect your pets during this cold snap is to keep them at home, indoors.
PACC's normal business hours are Monday through Friday, noon-7 p.m. or 10 a.m. to 5 p.m. on the weekends. People who are interested in adopting a pet can look for them online or visit them in person at the shelter, located at 4000 N. Silverbell Rd. All pets adopted from PACC come spayed or neutered, with age-appropriate vaccinations, a microchip, and a free vet visit.