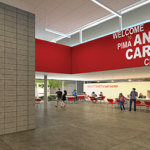 PACC received $5,000 grant on Aug. 14 to carry foster program forward
PIMA COUNTY – Pima Animal Care Center has received a $5,000 award from the Petco Foundation to develop its lifesaving idea of matching at-risk pets with foster parents who live in settings like senior centers. The Petco Foundation recognized PACC and presented the award to County officials Monday morning at an event held at the River Road Petco Store.
Earlier this year, PACC submitted its lifesaving idea to the Innovation Showdown competition. The Petco Foundation and Jackson Galaxy Foundation created this funding opportunity to encourage ideas that will change the landscape of animal welfare. From the 200 ideas received, PACC ended up among the eight runner-ups selected to receive $5,000 investments. See Jackson Galaxy's introduction of PACC's pitch here.
"The Innovation Showdown is a great way for us to support and foster big, positive change for animals," said Jackson Galaxy, founder of the Jackson Galaxy Foundation. "Together, we can make a meaningful impact, which is why we encourage others to join us and support Pima Animal Care Center by investing in their lifesaving efforts."
PACC's proposal involves expanding the fostering partnership it began in October 2016 with residents and staff from Catalina Springs Memory Care, which involved bottle-feeding three orphaned kittens, into a wider initiative that engages other groups and serves more pets in need.
"Our dream is to bring innovative foster programs like this to not only memory care facilities, but also schools, businesses, correctional facilities, and other groups across Pima County," said Karen Hollish, PACC director of development and marketing.  "Petco Foundation's investment will help us put this dream into motion."
"We are excited to support Pima Animal Care Center's innovative, lifesaving work," said Petco Foundation executive director Susanne Kogut. "We hope that this investment in Pima County Animal Care Center will help to save even more animal lives and increase the use of creative foster care initiatives like this one all across the country."
The Petco Foundation and the Jackson Galaxy Foundation plan to continue the Innovation Showdown as an annual opportunity. Since 1999, the Petco Foundation, has invested more than $185 million in lifesaving animal welfare work in communities across the country.