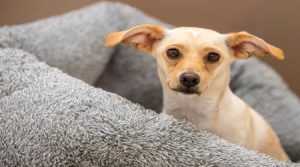 PIMA COUNTY, Sept. 29, 2023 – Pima Animal Care Center offers free adoptions for all animals and additional incentives to adopters of dogs weighing more than 40 pounds for the first two weeks of October. These incentives are part of PACC's partnership with BISSELL Pet Foundation, a national animal welfare organization dedicated to ending pet homelessness, for their Fall National "Empty the Shelters" campaign.
Starting Friday, Sept. 29, through Oct. 15, PACC will offer fee-waived adoptions on all animals. In addition, families who adopt a large dog (40+ lbs) from PACC will receive a $50 credit to the on-campus Central Pet store, which can be used to buy supplies for their newly adopted pet.
"Our nation's animal shelters are facing an overcrowding crisis unlike anything we have experienced in more than a decade," said Cathy Bissell, Founder of BISSELL Pet Foundation. "Our Fall National 'Empty the Shelters' will support the adoption of thousands of pets across the country, helping shelters in this critical time. Opening your home to a shelter pet saves a life and creates space to give another pet a chance."
PACC currently has more than 2,000 animals in their care between the shelter and community foster homes, with more than 500 of those animals currently living in the facility.
PACC is located at 4000 N. Silverbell Road and is open on Monday, Tuesday, Thursday, and Friday from noon to 7 p.m., on Wednesday from 1:30 to 7 p.m., and on weekends from 10 a.m. to 5 p.m. Pets adopted from PACC are microchipped, spayed or neutered, and come with age-appropriate vaccinations. Adult dogs require a $20 licensing fee. To learn more about available PACC pets and services, please go to www.pima.gov/animalcare. For more information on adopting or donating to "Empty the Shelters," visit Bissell's website.