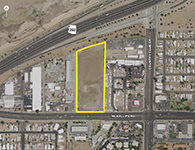 MESA, AZ – A 5.87-acre built to suit land parcel at 460 W. McKellips Rd. in Mesa sold for $1.4 million to an Oregon buyer, Pacific Seafood Group, with plans to build an industrial packing facility. Price per square-foot was recorded at $5.47.
The utility improved, M-1 and M-2-zoned industrial parcel sits adjacent to the Loop 202 Freeway right at the full-diamond interchange at Country Club Dr.
Lee & Associates principals worked both sides of this transaction.
Steve Farrell represented the seller, RDH Madison Holdings, LLC of Casa Grande while Matt McDougall represented the buyer, Dulcich Realty, LLC of Clackamas, OR.
Dulcich Realty is affiliated with the Pacific Seafood Group, one of the largest seafood companies in North America.  Dulcich Realty is exploring a build-to-suit opportunity for the land parcel as a seafood distribution center for the Arizona market.
Pacific Seafood Group is a West Coast seafood processing company that launched in 1941 as a small, fresh seafood retail operation in Portland, Ore. that is still serving customers to this day. Over the years, the family-owned business expanded to become a vertically integrated seafood processing and distributing company to meet customers' needs and a growing market.
Pacific Seafood processes seafood products from Alaska to Mexico, has facilities in seven Western states and participates in the global seafood trade market. It is a member of the West Coast Seafood Processors Association and is active in promoting a healthy and sustainable seafood industry. Pacific Seafood is under the leadership of Frank Dulcich, the founder's namesake and grandson.
To learn more Farrell can be reached at 602.954.3746 and McDougall is at 602.474.9561