Holualoa Companies Purchases Vacant Forbes Blvd. Office Building in Tucson, Plans $4 Million+ Revitalization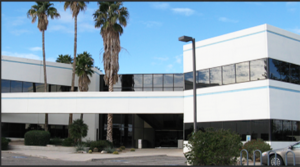 TUCSON, ARIZONA — A Tucson office property vacated in 2016 will soon undergo a significant revitalization effort to make it more desirable for businesses and better-suited for multitenant use.
Holualoa purchased the property located at 2202 N. Forbes Blvd. in Tucson. It is part of the larger Broadbent Interstate Center, which first took shape in the 1980s. The Forbes office building is a 58,000-square-foot back office building recently owned by Carondelet Healthcare. When Carondelet was purchased by Tenet Healthcare in 2016, Tenet moved its operations out of the building.
Holualoa Companies officially acquired the property on Sept. 6 for $2.6 million ($45 PSF) and plans a $4 million renovation to transform the space for a wide range of medical, office and other tenants to meet rising demand across the region. The property will feature a market-leading parking ratio of 9 spaces per 1,000-square-feet of rentable space.
Holualoa Companies' Vice President of Finance Lani Baker said the property was particularly desirable because of its well-established location, its close proximity to Interstate 10 and the University of Arizona.
"There's a significant need for quality office space in this area, so transforming this vacant property into desirable office space helps address the needs of this growing part of Tucson," she said. "We have a number of companies that have already expressed interest in putting down roots at Forbes, and adding more parking spaces, upgrading building systems and otherwise enhancing its amenities will only increase its desirability."
Holualoa Companies already has a large presence throughout Tucson, including extensive office, industrial and multifamily properties. The company's planned $4,090,000 investment in the property will finance additional parking areas, leasing efforts and additional accommodations needed to make the property ideal for multi-tenant use.
David Volk and Bruce Suppes of CBRE in Tucson represented the buyer and David Montijos also in the CBRE Tucson office represented the seller, CHN Holdings.
Volk and Suppes have the leasing assignment for the building once renovations are complete.
For more information, contact the CBRE Tucson Office at 520.323.5100.
To learn more, see RED Comp #7112.