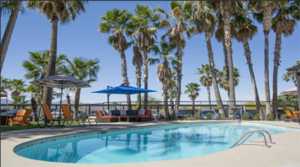 TUCSON, ARIZONA -- Berkadia announced the sale of and financing for Palm Canyon Apartment Homes, a 368-unit garden-style multifamily property in Tucson, Arizona.
Located at 2255 West Orange Grove Road, Palm Canyon features one-, two- and three-bedroom floor plans with full-size washers and dryers, dishwashers, spacious closets, air-conditioning and private patios or balconies. Community amenities include two pools, a grill, a picnic area, a clubhouse, a fitness center, a business center, covered parking, door-to-door trash pick-up, on-site maintenance, online rent payment capabilities and complimentary internet access. Residents are also afforded convenient access to employers such as Raytheon, Casas Adobes Park, Wildwood Park, the University of Arizona and the shops and restaurants along North La Cholla Boulevard.
Senior Managing Director Art Wadlund and Director Clint Wadlund of Berkadia's Tucson, Arizona office completed the $40.3 million ($109,500 per unit) sale on behalf of the seller, Houston-based Domain Communities. The buyer was Seattle-based Thayer Manca Residential, and the deal closed on July 29.
"The buyer purchased this property, because of its prime location in the strong Tucson market and added opportunity to upgrade its units," said Art Wadlund.
Managing Director Lou Weisman of Berkadia's Seattle office secured $25.35 million in acquisition financing for this property, through the Fannie Mae DUS program for a 10-year full term with fixed-rate interest-only loan payments.
"Berkadia and Fannie Mae both saw the value proposition in Thayer Manca Residential's signature renovation package," said Weisman. "Their renovation package will provide over $13,500 per-unit in interior and exterior improvements, in addition to a sustainability package of green improvements that will lower utility costs for tenants and landlords alike. The entire transaction is a win-win for all parties."
For more information, Clint Wadlund should be reached at 520.615.1100 and Art Wadlund can be contacted at  520.299.7200.
To learn more, see RED Comp #7038.