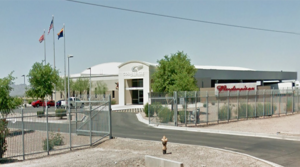 Phoenix Manufacturing Is Back… and High Paying Jobs with it!
BUCKEYE, ARIZONA — Parker Fasteners, LLC purchased a 45,909-square-foot, previous Golden Eagle Distributors cold storage industrial building, located at 26815 W. Baseline Road in Buckeye, AZ, from VLC Properties, LLC for $3.6 million ($78. PSF) for manufacturing expansion.
Parker Fasteners is an American cold heading fastener manufacturer that specializes in socket cap screws and specialty fasteners.  The company holds over 125 years of combined experience spanning two generations.
Parker Fasteners has been on a fast growth course since founded and completed a successful transition from AS9100 Rev. C to AS9100 Rev. D certification recently, two years of its original QMS certification, in March 2018. Pushing forward during the month of August 2018, Parker Fasteners also became ITAR registered. Five months later without skipping a beat or losing momentum; Parker Fasteners began the year passing recertification / surveillance of AS9100 Rev. D during the month of January 2019. All of this came on the heels of changing to a new registrar; converting to a new ERP software; and transferring to a new payroll service provider. Within those five months, Parker Fasteners maintained monthly plant meetings, employee of the month rewards, hired 6 employees, gave out 2 bonus checks, had a Dave & Busters Christmas Party, took an entire week off and managed a profit for the end of the year to cap it off.
Michael S. Hammond, CRE, SIOR, CEO with Cushman & Wakefield | PICOR of Tucson, and James Wilson with Cushman & Wakefield Arizona (Phoenix), represented the seller in this transaction.
Bob Crum with Ross Brown Partners, Inc., represented the buyer and was happy to tell us, "Manufacturing is back in Phoenix – creating high paying jobs that some thought we'd never see again. Manufacturing jobs are back and bringing high pay jobs with it."
For additional information, Crum should be reached at 480.362.9521. Hammond can be contacted at 520.546.2700 and Wilson is at 602.229.5923.