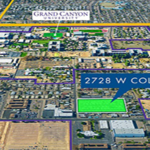 Phoenix, AZ -- ABI Multifamily, the Valley's largest locally operated dedicated multifamily brokerage and advisory services firm, is pleased to announce the $3.4 million sale of the Periwinkle Mobile Home Park, a 61-space mobile home community located in Phoenix, Arizona.
Periwinkle Mobile Home Park, located at the NWC of North 27 Avenue and West Colter Street, is less than ½ mile from both Grand Canyon University and I-17, Black Canyon Freeway.   The 4.65 acre property is located within GCU's Planned Area Development (PAD) and is located across the street from the newly opened GCU Hotel.
"Over the last several years, and to accommodate surging enrollment numbers (upwards of 25,000 students are expected by 2020) GCU has pursued an aggressive acquisition policy purchasing upwards of 100+ acres in the last 2 years alone," states John Kobierowski, Senior Managing Partner at ABI. "The Seller was offered a very attractive price for the land and GCU is one step closer to controlling the entire area surrounding its main campus, definitely a win-win for both parties."
The Seller was a private multifamily investor based out of California.
The Buyer was Grand Canyon University (GCU).
The Phoenix based ABI Multifamily brokerage team of John Kobierowski, Alon Shnitzer, Rue Bax, Doug Lazovick and Eddie Chang represented the Seller in this transaction.
ABI Multifamily is a brokerage and advisory services firm that focuses exclusively on apartment investment transactions. The experienced advisors at ABI Multifamily have completed billions of dollars in sales and thousands of individual multifamily transactions. ABI Multifamily incorporates a global approach with regional real estate expertise to successfully complete any multifamily transaction, regardless of size and complexity.
For more information contact Kobierowski at  602-714-1384, Shnitzer at 602-714-1283, Bax at 602-714-1406, Lazovick at 602-714-1388, Chang at 602-714-1398, Klocek at   602-344-9258, and Burch at 602-344-9197.