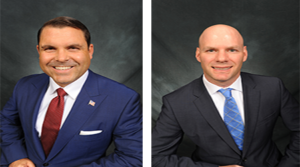 PHOENIX, AZ – Investors looking to diversify their portfolios, hedge against risk and secure higher yield are turning toward the net lease sector. As an industrial hub and burgeoning retail powerhouse, the Southwest is offering investors a wealth of net lease opportunities. In response, JLL's Capital Markets today announced Peter Bauman and Tivon Moffitt have joined the firm as Senior Vice Presidents. Bauman and Moffitt will lead the firm's net lease investment sales practice in Phoenix and report to Senior Managing Director and head of Phoenix's investment sales platform Dennis Desmond and Managing Director and head of the Net Lease Property Group Thomas Beneville.
"As investors explore more conservative strategies, the security that net leased assets provide is becoming increasingly appealing," said Beneville. "To best serve our clients, it is imperative that we continue expanding our net lease services to growing markets such as Phoenix."
Added Desmond, "Peter and Tivon bring an impressive amount of experience to the Phoenix investment sales platform. Their ability to work proficiently across all asset classes allows the firm to service our clients more broadly in this burgeoning market."
Bauman and Moffitt hold a combined 15 years of commercial real estate experience in tenant representation and investment sales join JLL from a leading international commercial real estate firm where they were directly involved with more than $400 million in sales volume since 2012. They are also joined by John Paul Mulhern, Associate.
Moffitt earned a bachelor's degree from the University of Pennsylvania while Bauman earned his bachelor's degree from Humboldt State University.
JLL Capital Markets is a full-service global provider of capital solutions for real estate investors and occupiers. The firm's in-depth local market and global investor knowledge delivers the best-in-class solutions for clients — whether a sale, financing, repositioning, advisory or recapitalization execution. In 2015 alone, JLL Capital Markets completed $140 billion in investment sale and debt and equity transactions globally. The firm's Capital Markets team comprises more than 2,000 specialists, operating all over the globe.
For more news, please visit The Investor, an online and mobile app news source providing real-time commercial real estate news to asset buyers and sellers around the world.