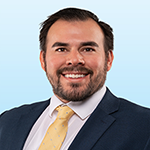 Hernandez Combines Data Analytics with Cutting-Edge Visual Reporting
Phoenix, Arizona –  Phillip Hernandez has been named Research Manager of Colliers International in Arizona.
Hernandez, who most recently served as an analyst with a top office leasing team at CBRE, brings extensive experience in location analytics, interpretation of complex data sets and utilization of the latest technology to bring research to live in visual presentations.
"Phillip's work with top-performing markets enabled him to design unique models and high-quality maps that convey the story of real estate in very impressive ways," says Bob Mulhern, senior managing director with Colliers International in Arizona.  "His expertise, energy and creative talents will benefit our sales teams and our clients in a multitude of ways.  Our market evolves daily and the city is experiencing a dramatic growth trajectory.  Phillip will be instrumental in helping us convey this dynamic expansion to local, regional and national markets."
As research manager, Hernandez is responsible for proactively developing and implementing research objectives and directing all research activity for the Arizona offices of Colliers.  Focusing on business development, he leverages market intelligence and insights for thought leadership content strategy in support of client engagement.  His goal is to strategically align research and business development efforts, presenting research in an easily digestible format the promotes Colliers' market share and revenue growth.
Hernandez holds a Bachelor of Science degree in Geography and Urban Studies from Arizona State University.  He also holds a Certificate in Geographic Information Studies (GIS).  Hernandez is an active member of Valley Partnership and ADVOCATES Program.
Phillip Hernandez replaces Tom Brophy, who has joined the Cooke Multifamily Team at Colliers as their director of research and analytics.