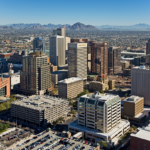 Commentary by Elliott D. Pollack & Co. reprinted from Rose Law Group Reporter
One of the most widely reviewed economic indicators, Real GDP, posted improved numbers this week. The first quarter of this year is now reported to have only slightly contracted by 0.2%. Even this is believed to be due to one-time events and some data processing errors. Forecasters are expecting the second quarter to grow by 2.9% when the final numbers are in. Q3 and Q4 are expected to be even better.
The underlying story is mildly positive. Keep your eyes open for economic shocks though. The story on Greece was overplayed. It is a small and dysfunctional economy and will continue to be so for many years to come. The hidden story remains to be China. Reports out of that country are usually more positive than reality, and now the economy is reportedly slowing. This won't cause a recession. But, throw in another handful of mild to moderate shocks and we are left with some risks.
The same things go for Arizona. Expect the economy to keep moving along at a moderate pace, at least for now. Often, comparing the latest month with the one immediately before is misinterpreted at this time of year. Yes, job "losses" occurred, but only because of the odd way teacher jobs are tabulated. They are on vacation, not out of work. If we compare the numbers to the previous year the job gains in Arizona were 2.1%, and are 2.4% for the year thus far. For additional perspective, year-to-date Greater Phoenix economy is growing at 2.9% while Tucson is lagging at 1.0% (this is a real problem).
Arizona Snapshot  
According to RealData, the apartment vacancy rate in Greater Phoenix rose to 7.3% in the second quarter of 2015. This still compares favorably to 7.6% a year ago but 7.1% a quarter ago. Average rents were up 6.6% over the same time period.
(Editor's note: Tucson's vacancy rate for 100+ units decreased by 0.9% in second quarter of 2015 to 8.2% from 9.1% a year ago. Average rents were up by 2.1% over the same time period.)
According to Bright Future Real Estate Research, housing permits in Greater Tucson were down 6.9% in May vs. a year ago and down 7.3% compared to April. Existing home sales increased 18.5% from a year ago. New home closings were up to 178 in May, 3.3% below May 2014.
U.S. Snapshot
The University of Michigan consumer sentiment reading softened in mid-July to 93.3. Dire economic reports about Greece and the Eurozone likely offset the recent improvements in the current conditions component of the reading.
The Consumer Price Index increased, as expected, 0.3% in June. The gain was driven by a 1.7% rise in energy. Over the year, consumer inflation is up 0.1%.
Strong demand for apartments units drove housing starts and permits far beyond expectations. Housing starts are up 9.8% in June, but reflect a 29.4% surge in the multi-family component. Single-family starts fell 0.9%. Housing permits are up 7.4% but multi-family units rose 15.3% with single family units up only 0.9% in June.
There were 41,000 completed foreclosures nationally, down from 51,000 in May 2014. That's a 19.2% decline. By comparison, before the decline in the housing market in 2007, completed foreclosures averaged 21,000 per month nationwide between 2000-2006.