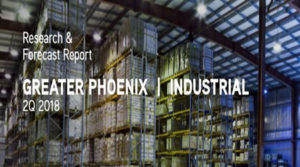 Net Absorption Rose, Vacancy Dropped and Investment Activity Gained Momentum
Phoenix, Arizona –  The Greater Phoenix industrial real estate market posted a strong second quarter, following a slower start to 2018.  Net absorption increased, vacancy dropped and investment activity gained momentum in the past three months. Positive conditions have poised the market for a sizable amount of new square footage that will be completed during the second half of the year, according to a report released by Colliers International in Greater Phoenix.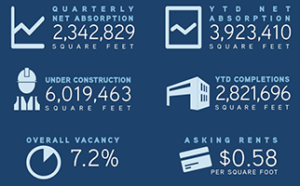 Net absorption surpassed 2.3-million-square-feet in the second quarter, which outpaced delivery of more than 2.1-million-square-feet in new development.  Year to date, net absorption has totaled more than 3.9-million-square-feet, while completions of new space have exceeded 2.8-million-square-feet.  Net absorption has exceeded 1-million-square-feet in each of the past eight quarters and the average of the past two years was nearly 2.4-million-square-feet per quarter.
The vacancy rate is now at its lowest point in more than a decade at 7.2 percent.  The rate has declined even as new spec projects are completed and increase the inventory.  Vacancy has averaged 7.6 percent over the past year, which is the lowest 12-month average since 2006.  The amount of vacant industrial space has declined by 50 percent from the peak.  In early 2010 the metro area had 44-million-square-feet of vacant space and we currently post just over 21 million square feet available.
Inventory is scheduled to increase during the second half of 2018 with more than six million square feet of space currently under construction.  The bulk of those projects are expected to be completed by January 2019.  Businesses continue to expand in Greater Phoenix, which has led developers to launch both speculative and build-to-suit developments in the construction pipeline.
Industrial rental rates rose during the last three months.  Average asking rents hit $0.58 per square foot, per month and are 3.0 percent higher than a year ago.  Some of the largest annual gains in rates have been experienced in the big-box distribution category of product.
The investment market showed steady signs of strength.  The number of transactions and properties changing hands has outpaced the same period of time in 2017.  The median price year to date is $98 per square foot, while cap rates have averaged approximately 6.8 percent. This was the most active first half for industrial investment sales since 2007.
The current trend of rising borrowing costs and declining yields is not sustainable long-term, but cap rates may stay near current ranges in the upcoming quarters due to strong investor demand and competition for performing assets.  Tenant demand for local industrial space will eventually taper off, but that is not expected to happen for the remainder of 2018.  Construction activity is robust, but tenant demand is meeting the supply being provided.  Historically in past real estate cycles, feverish construction of speculative space created significant over-supply that damaged the market conditions. The current pace of construction is less volatile, creating less of a competitive threat from new development, which would likely cause more modest vacancy upticks when the market ultimately cools off.
See full report here: 2018-Q2-Industrial-GreaterPhoenix-Report-Colliers
See snapshot here: 2018-Q2-Industrial Snapshot