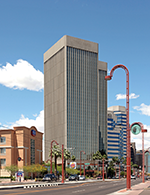 The following commercial leases were reported to the Real Estate Daily News for the Phoenix Lease Report from February 27 thru March 3, 2017.
OFFICE – 2600 N CENTRAL AVE., PHOENIX, AZ
CMOC International has recently signed a 7-plus year, 16,299-square-foot office lease at 2600 Tower, 2600 N. Central Ave., Phoenix.  Lee & Associates Associate Michael Marsh, Principals Craig Coppola and Andrew Cheney and Associate, Gregg Kafka, negotiated the transaction on behalf of CMOC. JLL brokers represented the property ownership, Adler Realty Investments, Inc., Woodland Hills, CA. CMOC International is a worldwide molybdenum and tungsten mining company based in the People's Republic of China. The Phoenix office will house an office management center. They are moving from a Camelback Corridor location. Built in 1982, 2600 Tower offers light rail service directly along Central Ave., high-quality amenities, abundant parking, expansive city views and numerous cultural and dining venues within walking distance.
RETAIL – SEC ELLIOT & DOBSON, CHANDLER, AZ
A lease for 3,050-square-feet at Elliot Square to Cellular Sales of AZ was recently consummated.  The location of the property is the SEC of Elliot & Dobson in Chandler, AZ.  Jim Edwards of Rein & Grossoehme represented the owner.
RETAIL – SEC 107TH AVE & GRAND, SUN CITY, AZ
A Retail Lease for 1,583-square-feet within Kings Inn Center at SEC of 107th Ave & Grand in Sun City, AZ to Great Clips was recently consummated. The owner of the center is Kings Inn of Sun City, LLC.  Jared Lively of Rein & Grossoehme represented both the Landlord and the Tenant on this transaction.