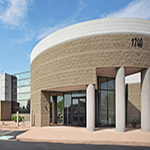 The following leases were reported for the Phoenix Lease Report September 22-26, 2014
OFFICE SPACE – 1700 N DESERT DR., TEMPE
Phoenix, Ariz. – Greenville, NC-based Regional Acceptance Corp. leased a 40,000-square-foot office at Papago Technology Center located at 1700 N. Desert Drive in Tempe, Ariz.
Bryan Taute with CBRE represented the landlord, WDP Partners of Phoenix. The tenant, a division of BB&T Bank, was represented by Jason Moore and Keith Lammersen with JLL.
"This lease is another good example of a new office user to the market being drawn to a centrally located building that allows them to easily attract new employees," said CBRE's Taute.
Regional Acceptance Corp. is looking to capitalize on Papago Technology Center's location in the heart of one of metro Phoenix's most desired labor pools and plans to hire approximately 300 new employees to staff the center. The company also plans to make significant improvements to the newly-leased space in order to offer future employees a state-of-the-art, modern facility. The company plans to take occupancy of the space in March 2015.
Built in 1993, Papago Technology Center is a 75,000-square-foot flex/office building located in the heart of Tempe and one of metropolitan Phoenix's largest, most-desired labor pools. The property benefits from direct access to the light rail system via the station at Washington Street and Priest Drive as well as proximity to the Loop-202 via Priest Drive. The property currently has 33,795 square feet of remaining space available for rent.
INDUSTRIAL SPACE – 5502 W BUCKEYE AVE., PHOENIX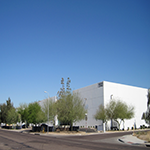 Elontec has leased 28,231-square-feet of space, which is an expansion for the company at to 5502 W. Buckeye Avenue in Phoenix. This lease brings the 103,400-square-foot Freeport Industrial Center to 100% occupancy.
Elontec, an award-winning, woman-owned office furniture, relocation and cabling company, will consolidate its operations and relocate its corporate headquarters currently at 5402 W. Roosevelt St., Phoenix. Elontec plans to relocate in October.
The company will be consolidating two spaces that total approximately 24,000-square-feet and moving operations to Freeport Industrial Center. Elontec will be hiring additional workers as part of the expansion.
Cushman & Wakefield negotiate the long term lease. "This space sat vacant for more than 18 months before we were enlisted to market the property," said Justin LeMaster of Cushman & Wakefield . "Based on our strategic marketing approach and relationships in the brokerage community, we were able to completely negotiate the deal within two weeks of receiving the assignment."
LeMaster, Mike Gilbert and Paul Sweetland, SIOR, of Cushman & Wakefield's industrial division represented the landlord, Environmental Development of San Diego. Ted Liles of Cresa represented Elontec.
OFFICE SPACE – SCOTTSDALE EXECUTIVE OFFICE CENTER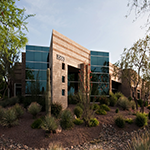 Cushman & Wakefield of Arizona, Inc. negotiated 21,085-square-feet of new leases at Scottsdale Executive Office Center, 15880, 15990 and 16100 N. Greenway-Hayden Loop.
Ingram Micro, Inc., a Santa Ana, Calif.-based firm, opened a technology incoming call center and occupies 14,926-square-feet and PHX Architecture relocated from a central Scottsdale location into 6,159-square-feet.
"The Scottsdale Executive Office Center meets the needs of tenants who require dense floor plans with 5.77:1000 ratio parking to go with it," said Chris Nord, Associate Director with Cushman & Wakefield of Arizona, Inc. "The bay depths allow for efficient floor plans and a 1% load factor keeps the required size of the premises smaller than competing office properties."
Nord and Michael White of Cushman &Wakefield represented the landlord, Perry Investment Trust No. 1. Mark Seale of Cassidy Turley represented Ingram Micro. Victor Gilgan and Scott Fey of Omni America, LLC represented PHX Architecture.
Both tenants took occupancy this month, bringing the property to 87% occupancy. Other tenants include Trivita, Stella & Dot, MWA Intelligence, and Landmark Education.
 *     *     *     *     *
RETAIL – ENCORE PLAZA SHOPPING CENTER, GILBERT
Health Angels, LLC dba TrueRest leased 2,147-square-feet in Encore Plaza Shopping Center recently. The location of the property is at Baseline & Gilbert Road in Gilbert, AZ. Jim Edwards of Rein & Grossoehme Commercial Real Estate represented the landlord and Carl Jones & Gordon Heckaman of DeRito Partners represented the tenant.
RETAIL – 1066 N POWER RD, MESA
Mesa Comics leased 1,500-square-feet at 1066 N. Power Road Mesa, AZ recently. The landlord is 1066 North Power, LLC. Jake Ertle and Jim Edwards, both of Rein & Grossoehme Commercial Real Estate represented the tenant and landlord.
RETAIL – THE PALMS SHOPPING CENTER, PHOENIX
99 Cent Plus leased 900-square-feet in The Palms Shopping Center recently. The location of the property is 15620 N. 35th Ave. in Phoenix, AZ. Richard Mackay of Rein & Grossoehme Commercial Real Estate represented the landlord and tenant.