PHOENIX, ARIZONA (June 1, 2023) -- Which U.S. cities are the loudest? Chances are, the first contender that came to mind was New York City, but plenty of urban centers nationwide need help with increasing levels of noise pollution. And while scientists and activists have been aware of this idea since the early 1900s, finding comprehensive solutions to reduce noise pollution requires a multifaceted approach.
First, any measures to address this issue would need to identify the worst offenders in the context of each city. To this end, 42Floors proposes a two-part study to rank the noisiest large and mid-sized U.S. cities. Specifically, we ranked entries based on their performances across 12 metrics, including the number of annual operations at airports servicing a municipality; the amount of construction activity in the last five years, as well as the current development pipeline; population density; and the percentage of residents using motorized vehicles for their daily commute.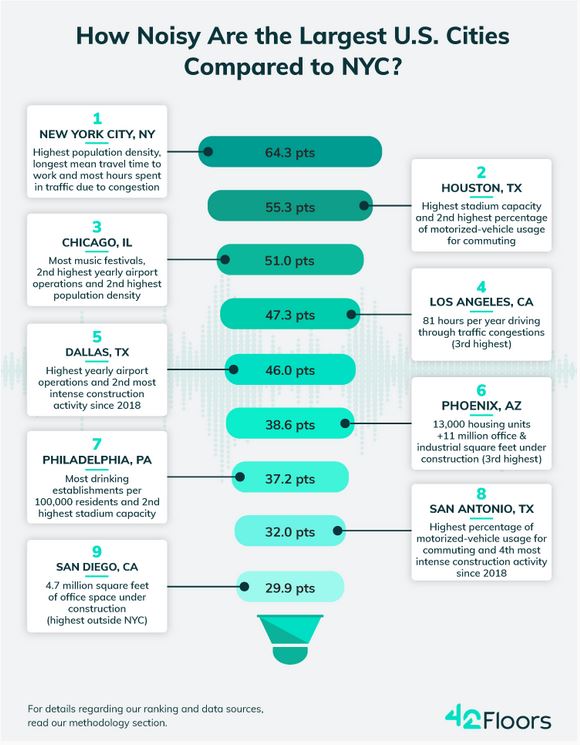 Secondly, while some noises might be unpleasant or unwanted, cities need things like construction, transportation, and an active social scene to thrive and ultimately meet the needs of their residents. We've addressed some of the nuances of this topic in our conclusions section.
Phoenix ranked sixth in loudness as compared to New York City.
Phoenix, AZ
­Phoenix's soundscape is marked by similar noise sources as that of Dallas, with intense commercial development in the last five years resulting in the third-highest industrial square footage per capita density. What's more, residents of the Arizona city will have to contend with the sounds of active construction sites in future years, as well, because Phoenix has nearly 11 million square feet of industrial space in the pipeline.
Home to the third-busiest aviation hubs in our ranking with 948,340 annual landings and take-offs, Phoenix also had the fourth-highest percentage of commuters traveling to work via a motorized vehicle (76%). And, while the streets of Arizona's capital are by no means quiet (especially during peak congestion hours), Phoenicians might be glad to learn that they spend far less time on their commute to work and fewer hours per year stuck in traffic on average than the other cities on our list.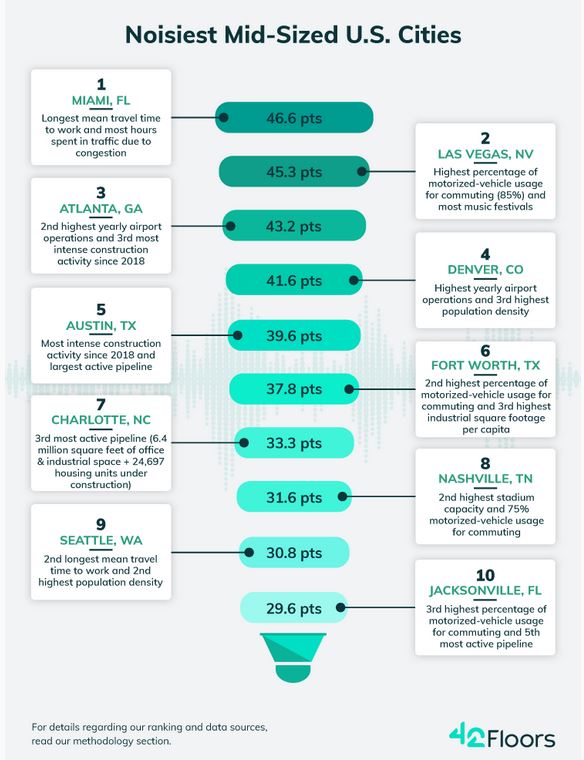 Who Decides What Constitutes Noise Pollution?
What constitutes excessive or harmful noise levels and how to mitigate its effects on residents remains complex and contentious. For instance, residents might face the inconvenience of living near a construction site if it alleviates the local housing shortage or delivers conveniently located job opportunities. In the same way, significant events held in densely inhabited downtowns can be distracting. Still, they also tend to be seasonal instead of the daily humdrum of road congestion.
Conversely, trying to deal with traffic by adding highway lanes can be a double-edged sword: Research shows that these measures generally lead to induced demand (prompting even more people to use their cars) and do little to nothing to reduce noise levels.
Meanwhile, the increased frequency of airport landings and take-offs happening above residential areas — aided by technologies such as the NextGen air traffic control system — is likely to disproportionately affect residents living outside the city core. Furthermore, these are often the very same people who have already been displaced by gentrification.
In any case, as local communities try to negotiate a pace of development that doesn't adversely affect their quality of life, they have a crucial role in deciding which sources of sound pollution need to be addressed. In that respect, this study hopes to become one of the multitudes of perspectives required to provide comprehensive and equitable solutions to these problems.
For more information regarding the indicators used in our ranking, how they were weighted, and details about which cities were included, please refer to our methodology section.