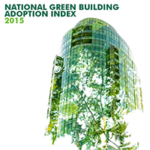 31.4% of Valley office space considered green,
Nationally, 62% of large buildings qualify as green, compared to less than 5% of small buildings
Phoenix, AZ – With 31.4 percent of its office space considered "green" Phoenix ranked 18 of 30 markets on the 2015 Green Building Index, a joint project of CBRE Group, Inc. and Maastricht University.
Despite scoring in the bottom half of most green building categories, metropolitan Phoenix showed improvement in several areas and moved up three positions to 18th overall. The total percentage of green square footage increased to 31.4 percent, a significant gain from last year's 28 percent. The market increased in both ENERGY STAR labels and the percentage of square footage holding LEED certification, which increased to 14.4 percent from last year's 12.1 percent.
According to local experts it is too early to tell if green buildings are becoming a significant trend in the marketplace. However, many of the newly constructed office buildings and those currently under construction are or will be LEED certified. Certain tenants actively looking for space in the Valley prefer LEED-certified buildings because environmentally responsible business and real estate decisions are important to employees and overall company culture. With this in mind, some office developers make green buildings a priority. The currently-under-construction Hayden Ferry III is a perfect example. The property is being developed with LEED Gold® certification as its goal and the property has had significant pre-leasing activity through out the development phase.
The Valley's green building practices are not reserved for office properties either. For example, REI's currently-under-construction, 400,000-square-foot distribution center in Goodyear is being designed with sustainability in mind. The building will be designed using LEED standards and the company aims to achieve a minimum of LEED Gold® certification.
Overall, Minneapolis led the Green Building Adoption Index's city ranking for the second consecutive year, with 70.4 percent of all office space currently qualified as green, down from 77.0 percent in 2014. San Francisco, again in second place, significantly closed the gap and now boasts a 70 percent green market, up from 67.2 percent in 2014. Chicago, at 63.4 percent, was third, while Atlanta (57.8 percent) and Houston (52.9 percent) swapped positions at fourth and fifth. The top 10 cities on the 2014 list all retained a place on the 2015 list.
The study also found that owners of small buildings have an opportunity to differentiate themselves by implementing energy-efficient practices, due to a significant gap between large and small office buildings in achieving sustainability certification. 62.1 percent of office buildings in the U.S. greater than 500,000 square feet are considered green. In contrast, only 4.5 percent of all U.S. office buildings less than 100,000 square feet qualified as green.
"Our 2015 study confirmed that green building adoption has been primarily a big building, first-tier city phenomenon," said David Pogue, CBRE's global director of corporate responsibility. "It would appear that many smaller buildings in the majority of large markets still have an opportunity to be 'best in class' among their peer set by achieving these certifications."
Executed in close collaboration with the USGBC and CBRE Research, this is the second release of the annual Green Building Adoption Index. Based on a rigorous methodology, the Index shows the growth of ENERGY STAR- and LEED-certified space for the 30 largest U.S. office markets, both in aggregate and in individual markets, over the previous 10 years.
2015 Green Building Adoption Index
Top 10 Green Office Markets
| | | | |
| --- | --- | --- | --- |
| Market | 2015 Rank | 2015 % | 2014 Rank |
| Minneapolis | 1 | 70.4 | 1 |
| San Francisco | 2 | 70.0 | 2 |
| Chicago | 3 | 63.4 | 3 |
| Atlanta | 4 | 57.8 | 5 |
| Houston | 5 | 52.9 | 4 |
| Denver | 6 | 48.7 | 7 |
| Los Angeles | 7 | 47.1 | 6 |
| Washington, D.C. | 8 | 42.3 | 10 |
| Miami | 9 | 41.6 | 9 |
| Seattle | 10 | 40.1 | 8 |
| | | | |
To see the full report: Green-Building-Adoption-Index