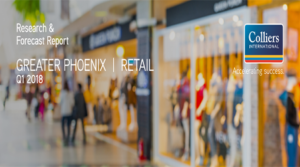 Healthy Leasing, Declining Vacancy and Rising Rents Result from Strong Economy
 Phoenix, Arizona – Colliers International of Phoenix is reporting the Greater Phoenix retail market posted an unusually strong first quarter.  The past three months marked the strongest first quarter performance since 2008 as retailers ramped up activity in response to continued economic growth and an accelerating housing industry.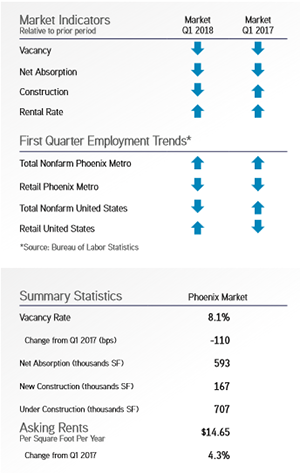 "First quarter is historically the slowest period of the year for retail net absorption, since merchants are often closing underperforming stores after the holiday season," says Pete O'Neil, research director for Colliers International in Greater Phoenix.  "Despite this trend, net absorption in Phoenix was stronger because of our growing economy."
Toys R Us announced its demise, which will impact the Greater Phoenix market.  Most of the store closures will take place early in second quarter, impacting statistics for the next report.
Net absorption for the first quarter totaled more than 593,000 square feet.  Vacancy in the metro area dipped 20 basis points in the first quarter of 2018, falling to 8.1 percent.  The vacancy rate has declined five of the past six quarters and now sits at 110 basis points below one year ago.  Vacancy in the East Valley fell to a 10-year low, 7.8 percent during first quarter
Rent growth has varied, but generally is rising.  Asking rents have risen 4.3 percent year-over-year and reached $14.65 per square foot.  Asking rents in North Scottsdale rose more than 14 percent year over year, surging to $22 per square foot during first quarter.
Investment sales of retail centers slowed during the first quarter, lagging behind the pace posted during the same period of 2017. While sales were curtailed, prices spiked and cap rates averaged in the low seven-percent range. The slowdown in sales was felt most significantly in product ranging between $5 and $10 million. The pace of transactions remained steady in smaller properties commanding between $1 and $5 million. The Greater Phoenix retail climate is improving and shopping centers are becoming more popular as an asset class.  The median price rose to $193 per square foot in the first quarter, which is more than a 60 percent increase from the median price of 2017.
The Greater Phoenix retail market is expected to thrive during 2018.  Retail expansion is forecast to continue as population grows and the local housing market improves.  Permitting activity for new homes has increased, which will support retailers.  As shopping centers experience higher demand, rents will grow and demand for these investment properties will rise.  Cap rates will likely remain in the high-six to low-seven percent, but prices will rise because of strong fundamentals.
See full report here 2018-Q1-Retail-GreaterPhoenix-Report-Colliers