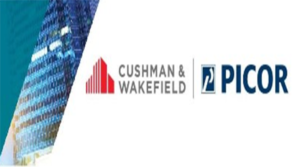 TUCSON, Arizona – Cushman & Wakefield | Picor closed over $6.5 million in reported sales recently, highlighted by Industrial land and property sales.
INDUSTRIAL BUILDING – 3785 E 34TH STREET, TUCSON
E. 34th St., LLC purchased 29,525 square feet of industrial space located at 3785 E. 34th Street in Tucson, from 34th Street Penguins, LLC, 34th Street Investment Partners, LLC, and Gayle Brickman, for $1,665,000.  Renewal by Anderson will occupy the vacant space in the property to distribute their window products to installers in Tucson.  Stephen D. Cohen, Russell W. Hall, SIOR, GSCS, and Brandon Rodgers, SIOR, CCIM, Industrial Specialists with Cushman & Wakefield | PICOR, handled this transaction.  The team of Cohen and Hall represented the seller in this transaction; Brandon Rodgers represented the buyer. (RED Comp #6676) See Real Estate Daily News for more information.
CHURCH – 651 S KOLB ROAD, TUCSON
Covenant Generations Church purchased a 30,532-square-foot building at 651 S. Kolb Rd. in Tucson, from Palo Verde Church of Christ Corp. for $1,350,000.  Covenant Generations Church is a vibrant and thriving ministry that recently expanded out of their previous location at 2550 N. Tucson Blvd. (also a Tomlinson/Hall/Cohen transaction).  Rob Tomlinson, Stephen D. Cohen, and Russell W. Hall, SIOR, GSCS with Cushman & Wakefield | PICOR, handled this transaction. (RED Comp #6621)
INDUSTRIAL LAND – I-10 & TWIN PEAKS ROAD, MARANA
Robert Lee Conser, Gregory Paul Conser & Madelyn Patrice Conser Trust purchased 14.84 acres of industrial land located at I-10 & Twin Peaks Road in Marana, from Continental Ranch Development, LLC for $1,000,000. Robert C. Glaser, SIOR, CCIM, Industrial Specialist with Cushman & Wakefield | PICOR, represented both parties in this transaction. (RED Comp #6667)
INDUSTRIAL SPACE – 4995 N CASA GRANDE HWY., TUCSON
DFA, LLC purchased 9,000 square feet of industrial space located at 4995 N. Casa Grande Highway in Tucson, from Gregory Paul Conser & Madelyn Patrice Conser, Robert Lee Conser Trust for $850,000.  Robert C. Glaser, SIOR, CCIM, Industrial Specialist with Cushman & Wakefield | PICOR, represented the seller in this transaction. (RED Comp #6656)
INDUSTRIAL SPACE – 6825 E OUTLOOK DR., TUCSON
Crawford & Sowers Holdings, LLC purchased 7,730 square feet of industrial space located at 6825 E. Outlook Dr. in Tucson, from Westpointe Holdings, LLC for $640,000.  Control Vision, an optics company who manufactures vision systems for manufacturing processes, will occupy the property.  Stephen D. Cohen and Russell W. Hall, SIOR, GSCS, Industrial Specialists with Cushman & Wakefield | PICOR, represented the seller.  Isaac Figueroa with BFL Ventures, LLC, represented the buyer in this transaction.  (RED Comp #6664)
INDUSTRIAL BUILDING – 3529 E GOLF LINKS RD., TUCSON
Meridiano Investments III, LLC purchased a 10,010-square-foot industrial building at 3529 E. Golf Links Rd. in Tucson, from VCN, LLC for $615,000.  Ron Zimmerman, Industrial Specialist with Cushman & Wakefield | PICOR, represented the seller; Rick Borane with Volk Company, represented the buyer.  (RED Comp #6691)
INDUSTRIAL LAND – 3224 N FREEWAY INDUSTRIAL LOOP, TUCSON
MJI, Company, LLC purchased 0.82 acres of industrial land located at 3224 N. Freeway Industrial Loop in Tucson, from C.A. Linaker Company, Inc for $200,000.  Max Fisher, Industrial Specialist with Cushman & Wakefield | PICOR, represented the buyer in this transaction. John G. Yarborough with Romano Real Estate Corporation, represented the seller. (RED Comp #6670)
RETAIL BUILDING – 2632 S TH AVE., TUCSON
Tin Cup Properties, LLC purchased a 4,644-square-foot retail building at 2632 S. 6th Ave. in Tucson, from Halle Properties, LLC for $195,000.  Ron Zimmerman, Retail Specialist with Cushman & Wakefield | PICOR, represented the seller in this transaction. (RED Comp #6650)