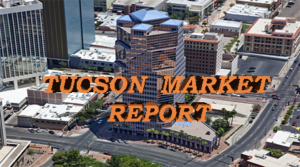 TUCSON, Arizona – Cushman & Wakefield Picor has published its midyear market reports for Tucson. Here's a summary for each of the market segments: industrial, multifamily, office and retail.
TUCSON MARKET OVERVIEW
National consumer sentiment remains favorable amid signs of positive economic direction. Arizona continues to outpace the nation in job creation, with an unemployment rate back to a level last seen before the Great Recession. Tightening labor markets are translating into faster wage and income growth which should boost retail sales. Overall, the outlook calls for the state's economy to accelerate modestly in the near term. Job growth in the Tucson metro area has accelerated significantly due to recent announcements from large in bound employers.   While single family home prices rose 6.0% nationally, the one-year price changes for the first quarter 2017 were 8.0% for Phoenix and 5.4% for Tucson. According to Bright Futures Real Estate Research, permits for new home construction in metro Tucson in May were up 51.8% from year earlier levels.
INDUSTRIAL OUTLOOK
Absorption continues to be strong as companies expand and new companies announce relocations to Tucson. Vacancy will be lower in smaller spaces under 10,000 square feet and rents will continue to rise. Activity will accelerate in larger spaces with improved absorption in this area. Land activity has been anemic for a number of years and will remain so until sale and lease prices approach the cost of new construction.
MULTIFAMILY OUTLOOK
The rental market continues to strengthen quarter after quarter.  We are making up for the years of stagnant and minimal rental growth Tucson felt compared to the much quicker acceleration by neighboring markets.  Investor interest continues to be at a high with the lack of inventory driving the values of apartments.  We have seen a significant pick-up in available student housing opportunities with many owners/developers looking at exit strategies.   We anticipate similar patterns for the rest of 2017 in the Tucson apartment market
OFFICE OUTLOOK
Expect continued market improvement through the balance of 2017 with greater transaction activity due to business growth. With the recent announcements of local job growth and new jobs coming to town, Tucson is also experiencing a rise in consumer confidence. It seems that the local municipalities gaining a better understanding of the importance of offering incentives aimed at attracting employers. Tucson's evolving healthcare landscape will remain a significant market player. The full medical economy from construction, practice management, jobs and facilities will continue to improve as Tucson Medical Center, and new comers Banner and Tenet complete their investments in the Tucson economy. Downtown will experience continued residential, retail and office development and occupancy growth. The Sun Link Streetcar has proven to be a real activity magnet over its Downtown/ University of Arizona route. Despite continuing debate regarding national healthcare, and the North American Free Trade Act, the current economic direction of the state and local market seem positive.
RETAIL OUTLOOK
As the Tucson retail market continues on a growth trajectory, we expect lease rates to edge upward. Investment properties will continue to enjoy historically low CAP rates, and that trend should remain consistent , with no movement either way in CAP rates or investor yield expectation. Tucson's reputation as a growth market with continual  positive employment news makes Tucson a desirable investment market for investors fleeing the ultra-low CAP rates seen in Coastal markets.
To read the full reports go to Cushman & Wakefield | Picor Market Reports