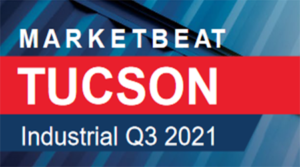 TUCSON, ARIZONA -- Cushman & Wakefield | PICOR is reporting that in the third quarter 2021, the Tucson market recorded employment of 384,600 jobs with a positive outlook, up 4.3% over the third quarter 2020. The unemployment rate improved from 7.9% in the third quarter 2020 down to 6.5%. Median household income in Tucson remains steady year-over-year at $57,600, in line with national figures. Population grew 0.9% year-over-year with a positive outlook, more than double the national gain of 0.4%. Due to pandemic-related supply chain issues, housing permits decreased 14.1% year-over-year in Tucson but remain up 28% year to date. Housing demand is stronger in recent years partly due to migration, but supply constraints limit the number of houses sold. Arizona is experiencing a very healthy recovery in retail sales, up 17.4% year-over-year even while factoring in a dip in July of this year.
SUPPLY & DEMAND:
Tucson's vacancy rate in the third quarter 2021 decreased to 4.5%. Meanwhile, completion of new projects remains hampered by increased costs and supply chain issues. Harsch Investment Properties is building their new $18 million, 230,000 square feet (sf) Tucson Airport Center 2 building. Autonomous trucking firm TuSimple is expanding past their 60,000 sf building in the Southeast submarket. Roche Tissue Diagnostics in the Northwest market is doubling their warehouse to 120,000 sf. Other developers will likely follow suit.
E-commence growth is driving warehouse space demands for Amazon and other large players for more last-mile locations and returns-processing facilities near residential growth. The Port of Tucson in the Southeast submarket showed record high demand in the third quarter 2021, with upwards of two million square feet in total product. Tucson's medical and optics industries are quite active, along with renewable energy initiatives driving solar and battery technology companies like Lucid in Casa Grande. Marijuana legalization created high demand even for obsolete space for cultivation use.

Large employers are targeting Arizona as an alternative to Southern California. Local graduates are increasingly choosing to stay in Tucson instead of relocating to other cities. Tucson was recently ranked the #1 up-and-coming tech hub and is the #1 Googled city for new home buyers.
PRICING:
Compressed cap rates in other cities has led to a massive amount of unsolicited offers on buildings in Tucson. With dwindling supply, both new and existing lease rates will increase in the near term until reaching equilibrium with the cost of new building construction. Sales are experiencing a similar trend, with rapidly increasing prices and a shrinking delta compared to new
construction.