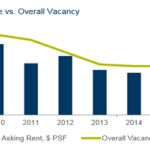 Cushman & Wakefield | Picor is reporting the Tucson Q3 retail market, like other property sectors, enjoyed improvement as the market wide vacancy dropped to 6.8% on positive absorption of 452,409-square-feet. The majority of the absorption was a result of the opening of the 360,000-square-feet Tucson Premium Outlets in Marana and the Cushman & Wakefield | PICOR Comcast office lease at the Tucson Galleria taking 211,000-square-feet out of the retail inventory.
The grocery sector saw continued ebbs and flows, as Haggen's failed market entry resulted in the closing of all three Tucson stores. With all located in established residential locations, the current market wide shortage of second-generation big box space may present an opportunity for alternate uses, counting niche grocers as another potential user to backfill the space. With two stores open in Tucson, Natural Grocers continued construction on their third location, slated to open in early 2016 at Broadway and Country Club, while they cleared their site at the southeast corner of River and Craycroft for a fourth unit.
Restaurants remained active with Raising Cane's under construction at Broadway/Wilmot while pursuing additional locations. New Mexico-based Lotaburger's two Tucson sites are under development at Speedway west of Country Club and Valencia west of I-19. Prep & Pastry and Sauce announced plans to locate in new space near Tanque Verde & Grant, while Chick-Fil-A's grading began at that corner. The three McMahon's properties were sold by the bankruptcy court with the Swan and Ft. Lowell mixed-use development as an office conversion, 6464 E Tanque Verde purchased by a speculative investor, and the Broadway/Alvernon's location purchased by HSL, the adjacent property owner, who intends to have an operator reopen the restaurant.
Outlook
Both broker sentiment and consumer confidence are up, and while job growth is Tucson's highest need, significant infusions of construction dollars are expected to be a boon. Look for medical uses to disperse into neighborhoods, and continued momentum downtown with the planned 30-story residential tower by Aerie Development adjacent to 1 South Church Ave. When built, the retail dynamic in downtown Tucson will change, with energy growing toward Downtown's west end.
Sales activity was more robust, with five investment transactions in the quarter and five sales of property over 10,000 sf. The largest sale was Griffin Capital's purchase from Aetna of the 100,273-square-foot fully-leased building at 3535 E Valencia for $216.41 per square-foot, with a leaseback to Aetna also completed. Cushman & Wakefield and Cushman & Wakefield | PICOR represented the seller.
While office vacancy rates are similar to those seen three years earlier, positive gains across all commercial property sectors in the third quarter is a positive harbinger for Tucson. Sale of 1 South Church, Tucson's tallest building, to a local investment group will be a strong start to fourth quarter activity. Both broker sentiment and consumer confidence are up, and while job growth is Tucson's highest need, significant infusions of construction dollars are expected to be a boon. This includes the HomeGoods facility, Banner's capital infusion into its hospital system, and any of the approved Pima County bond initiatives in November. Look for continued momentum across the spectrum of healthcare uses, particularly now that the two hospital system acquisitions are complete, Banner of University Medical Center and Tenet/Dignity of Carondelet Health Network.
For full report click here