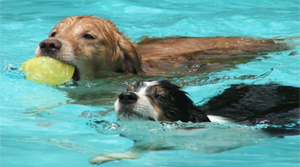 Pima County Natural Resources, Parks and Recreation (NRPR) is opening up its Picture Rocks Pool to dogs of all shapes and sizes on Saturday, Sept. 22, before staff drains and closes the pool for a much-needed re-plastering.
The free "Pupapoolooza" event takes place at the Picture Rocks Pool, 5615 N. Sanders Road, from 10 a.m. to 1 p.m. Humans will not be permitted to swim with their pups.
In addition, Pima Animal Care Center will be on hand with dogs available for adoption. Adoption fees cover the pet's spay/neuter surgery, a microchip, age-appropriate vaccinations, and a free vet visit. There is a $19 licensing fee for dogs.
Additional event guidelines include:
Owners are responsible for the actions of themselves and their pet and accept the risk of damage and/or injury caused by other dogs utilizing the pool area;
Dog waste must be cleaned up immediately by owner;
Aggressive dogs are not permitted on the premises and must be removed at the first sign of aggression;
No female dogs in season are allowed;
All dogs must wear collars with a current Pima County license and must be up-to-date on all vaccinations.
"Public pools and pooches don't usually mix," Grant Bourguet, recreation program manager for NRPR, said, "but this is a great opportunity for dog owners and their four-legged friends to escape the heat by enjoying some water fun together."