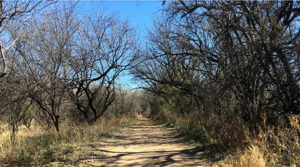 PIMA COUNTY — The Board of Supervisors Tuesday unanimously accepted an agreement with the National Park Service certifying that the portion of the Juan Bautista de Anza National Historic Trail running through Pima County meets Park Service standards.
The trail, established by an Act of the United States Congress in 1992, traces the route taken by Spanish colonial settlers led by Lt. Col. Juan Bautista de Anza in 1775-76 as they traveled from Sonora, Mexico to San Francisco Bay. The Trail through Pima County stretches almost 70 miles, with nearly 50 miles available for non-motorized users such as hikers, bicyclists and equestrians. It largely follows the course of the Santa Cruz River from Tubac to Marana, passing historic sites such as Canoa Ranch, Mission San Xavier del Bac and Presidio San Agustín.
Development of the Trail in Pima County began in 1997 after voters approved a Cultural Resource and Historic Preservation Bond and was further funded as part of the 2004 bond package – a total of $4.5 million. The Board of Supervisors approved the County's Master Plan for the Trail in 2002. It now features amenities including trailheads, parking areas, ramadas and interpretive signage, as well as bridges, gates and protective fencing.
"Certification by the National Park Service shows Pima County's portion of the Anza Trail meets national standards by authentically following the 1775 Expedition's route and campsites," Sustainability and Conservation Director Linda Mayro said. "It will help promote not only this amazing public resource in particular, but all of the outdoor opportunities Pima County has to offer to both residents and visitors."
Certification also makes the County better positioned for future grants for the Anza Trail from the Park Service and other federal and state agencies.
The Trail is located either on Pima County property or easements donated by private landowners. Pima County remains responsible for upkeep and maintenance of the trail and trailheads with the exception of areas maintained by various municipalities. Future segments may be added to the route depending on available funding