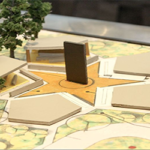 PIMA COUNTY — The Pima County Board of Supervisors at its Nov. 21 meeting unanimously approved a $25,000 appropriation to help fund a Veterans and First Responders Living Memorial in Oro Valley.
The memorial, which will be located on 2.58 acres of land at Naranja Park, 810 W. Naranja Drive in Oro Valley, is meant to serve as a "place of solemn honor, reflection and education dedicated to those who have served or continue to serve their communities, state and nation," said Kay Williams, Executive Committee, which is leading the fund raising for the memorial.
Presently, Southern Arizona does not have a central place to honor veterans and first responders. Organizers hope to break ground on the project in the third quarter of 2018 and host a formal dedication in early 2019.
The "Stars at Home and Abroad" memorial will have a 90-foot star as the base with a 24-foot high tower in the middle, which has the words of commitment of the services and the First Responders engraved. It will be permanently lit with solar lighting.
At each point in the star there will be a 15-foot-wide wall with the bronze medallion of each Department of Defense military service embedded and walls with medallions of the First Responders and National Guard. Surrounding the entire memorial will be a Pathway of Heroes with low seat walls that allow sweeping views of the Santa Catalina Mountains. There is also a covered pavilion with seating for about 140 people for ceremonies, services and education.
A shaded space will offer opportunities for engraved pavers as a tribute to family and friends  who are recognized by the Memorial.
"This Memorial honors all of the men and women who have served our country and communities with bravery and honor," Supervisor Sharon Bronson, chair of the Pima Coutny Board of Supervisors, said. "It's long-overdue recognition of all they do to keep us safe."
Funds that were earmarked for the Oro Valley Cooperative Public Art Project in the current Fiscal Year 2017-18 budget will be transferred to the Living Memorial fund. The memorial is being funded by private donations from individuals and businesses.
Learn more about the effort by visiting the Veterans and First Responders Living Memorial website.