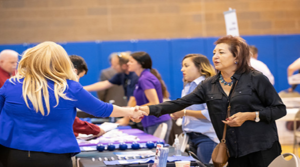 PIMA COUNTY, ARIZONA — Pima County will host a job fair on Tuesday, March 8, for people who are looking to work with social service agencies and nonprofits that serve individuals and families experiencing homelessness.
The job fair — a joint effort by Pima County, the City of Tucson and the Tucson Pima Collaboration to End Homelessness — will be held from 1 to 4 p.m. in the Emily Nottingham Conference Center, Sentinel Building, 320 N. Commerce Park Loop. The building is located downtown, west of Interstate 10 and west of the Santa Cruz River along North Bonita Avenue.
Major organizations that will participate in the job fair include the United Way of Tucson and Southern Arizona, the Salvation Army, COPE Community Services, Goodwill of Southern Arizona, the Gospel Rescue Mission, Interfaith Community Services and the Primavera Foundation.
The organizations are trying to fill hundreds of openings, said Donna Ruthruff of the Business Services unit at the Pima County One-Stop.
"The social service groups that serve the homeless are struggling to find employees, so they have come together for this job fair to find people who want to serve the community and help people facing homelessness," Ruthruff said.
Daniela Figueroa, chairperson of the Tucson Pima Collaboration to End Homelessness, added, "Since the onset of the COVID-19 pandemic, our community has received the largest infusion of new funding to address homelessness seen in decades. These additional federal, state, local and philanthropic resources have led to the creation of new positions during a time of staff shortage.
"Through the social services job fair, we hope to pair workers who wish make a difference in the lives of people experiencing homelessness with career opportunities at more than 20 local government and nonprofit organizations."
Job-seekers are encouraged to dress for success and bring plenty of resumes.