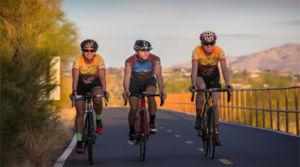 PIMA COUNTY, ARIZONA – The sixth annual Pima County El Tour Loop de Loop will take place on Saturday, Sept. 24. The event kicks off the 2022 El Tour de Tucson season and promotes the use of the Chuck Huckelberry Loop, Pima County's 137-mile system of paved pathways connecting destinations throughout the Tucson metro area.
El Tour Loop de Loop is a free event featuring an opportunity to ride The Loop with friends, live music from Maasman Band, a beer garden, food trucks, door prizes, and more. This year's event starts and ends at the Rillito Park, near the Racetrack.
The Loop Store, located inside the Southern Arizona Heritage and Visitor Center, will be onsite with special bike jerseys for sale. Participants will also have an opportunity to connect with non-profits participating in this year's El Tour and find new riding partners.
When: Saturday, Sept. 24, 2022
Where: Rillito Park Racetrack, 4502 N 1st Avenue
What: 7 a.m. – 2 p.m.: Ride The Loop with El Tour partners and friends
10 a.m. – 2 p.m.: After-party at Rillito Park
For questions about El Tour de Tucson and El Tour Loop de Loop, call 520-745-2033 or email info@eltourdetucson.org.