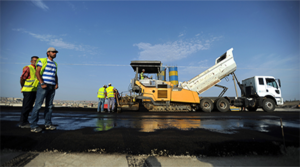 Improvements to three major corridors will be completed
PIMA COUNTY – The Pima County Board of Supervisors on Feb. 5, unanimously approved the sale of $25 million in Highway User Revenue (HURF) bonds to fund a selection of voter-approved roadway improvements.
The sale of the bonds, paid for through the County's distribution of state gas taxes, provide the funding for roadway capacity improvements to three major regional corridors. The largest of the projects among these is the widening of Broadway from Country Club Road to Euclid Avenue, a City of Tucson managed project.
The Broadway widening plan includes reconstruction of the roadway to six traffic lanes, three in each direction, with bus pullouts. The City of Tucson has completed most of the needed property acquisitions to facilitate construction and utility relocation work is planned to start early this year. Construction is expected to begin in earnest this summer and last approximately two years.
The Broadway widening project is a city-led project that is also part of the 2006 Regional Transportation Authority (RTA) Plan, wherein voters approved a half-cent sales tax to fund transportation capacity improvement projects. As part of the RTA plan, several project budgets included a portion of the funding will come from the County's voter-approved 1997 HURF Bond package, which included Broadway widening.
Other projects these County Bonds will fund include Houghton Road, Interstate 10 to Golf Links; 22nd Street, I-10 to Tucson Boulevard and pavement preservation work on County collector and arterial roadways.