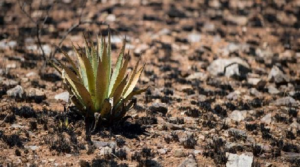 Pima County, Ariz. – Smoke from two wildfires south and west of Tucson has been causing hazy skies and an increase in airborne particles in the region. Elevated levels of particulate matter have been recorded at some of the Pima County Department of Environmental Quality's (PDEQ) monitoring locations, but air monitors continue to show that air quality remains in either the "good" or "moderate" range, depending on wind direction. However, parts of southern Arizona outside of the PDEQ air monitoring network could be experiencing higher levels of air pollution.
"Currently, the monitoring sites closest to the fires are the only ones recording periodic elevated pollution levels, but that could change if the fires continue over a long period of time," said Beth Gorman, PDEQ Senior Program Manager. "Some people downwind of the fire may smell smoke over the coming days. We encourage those who are very sensitive to air pollution to stay inside or reduce exercise when outside, if smoke is present in their neighborhood," Gorman said.
Wildfire smoke is a mixture of gases and fine particles from burning plants and other items. This smoke can irritate your eyes and respiratory system and worsen chronic heart and lung diseases. Smoke and hazy skies could remain in the area until the fires are extinguished.
Up-to-the-hour air pollution levels for eastern Pima County are available here. Information on wildfire smoke and air quality is available here.