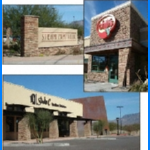 This article has been archived, please login for access or subscribe now by going to the subscribe tab at the top of page.
Pima Federal Credit Union (Pima FCU) has purchased a 79,109-square-foot pad for[mepr-show rules="58038"]$810,000 ($9.88 PSF) to construct a new branch location at Steam Pump Village in the Town of Oro Valley.
It was 1951 when Dick and Jane Evans, set out to purchase a family vehicle. While visiting a local credit union to apply for a car loan, it was suggested he start a credit union at the school he taught, Amphitheater High School. He joined a group of teachers and pooled $84 in total assets to form what is known today as Pima Federal Credit Union.
This humble beginning years ago served as the foundation on which the financial cooperative of Pima FCU was built. As founder Dick Evans expressed, "In those days (early 1950's) millions were never talked about. We never thought about growth--we were just glad to get a new member and our only concern was to serve them." This sentiment holds true to this day. This new location at Steam Pump Village will be their eighth location.
Steam Pump is a mixed-use project on the west side of Oracle Road, north of First Avenue, and includes Carpet One, Chili's, BASIS School, Quik Trip, Holiday Inn Express Hotel & Suites, and a new luxury apartment complex, Encantada by HSL.
The historic preservation efforts of the Town of Oro Valley and its partner, Pima County, at the former Steam Pump Ranch site adjoin the property.
Brenna Lacey and Dave Hammack of Volk Company in Tucson represented the seller, Evergreen-Steam Pump, LLC. John Yarborough of Romano Real Estate in Tucson represented the buyer.
In other separate transactions, Rio Rico Plaza, LLC (Raymond and Michael Garrett) purchased the 37,800-square-foot shopping center at the northwest corner of Interstate 10 and Rio Rico for $2.6 million ($69 PSF). Rio Rico Land, LLC (Raymond and Michael Garrett) bought the land adjacent to the shopping center for $60,000. The combined total acreage purchased by both entities was 24.9 acres. The seller of the land and shopping center was Evergreen-Interstate 19 & Rio Rico NWC. Brenna Lacey of the Volk Company in Tucson represented the seller in both the Rio Rico transactions.
Lacey and Hammack should be reached at (520) 326-3200, while Yarborough is at (520) 577-1000, for more information.[/mepr-show]