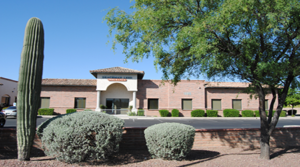 TUCSON, ARIZONA — Keith Newlon of Pioneer Title Agency purchased a 5,940-square-foot office property at 1889 N. Kolb Road in Tucson for $1,069,200 ($180 PSF) for its newest Tucson location. Built in 2003, the building is located in La Playa Caliente Office Park.
Pioneer Title Agency is a full-service company providing title insurance, escrow, account servicing, trustee sales, as well as builder-related trust services. It is a family-owned business with strong local ties.  The Newlon family, Bob and his wife Betty, son Keith and his wife Cindy, founded Pioneer Title in Sierra Vista in 1985. However, their foothold into the title business began much earlier.  Bob, a life member of the Land Title Association of Arizona, has called Arizona home since 1935 and worked in the industry since 1958.  Keith, a 2010 inductee into the Northern Arizona University College of Business Hall of Fame, got his start  in the title industry in 1979.
Pioneer has been, up until recently, a rural title agency in Arizona but is now quickly growing into urban areas in metro Phoenix, Tucson and Flagstaff. Last March, Pioneer acquired Metro Title Agency and made its entry into metro Tucson with four new branches –Tucson Ajo, Tucson River, Tucson Sunrise and Green Valley
With 66 offices throughout the state, the people in each of these offices are committed to servicing customer needs as well as being of service in the communities where they live and work.
For example, this year's company philanthropy project is to give back to schools and in so doing Pioneer has given each of its 550 employees $100 and an extra paid day off in the year to help at the school of their choice.
Pioneer was represented by Frank Arrotta of Tucson Realty & Trust Co. in the acquisition of the new building. Buzz Isaacson and Jeff Casper of CBRE represented the seller, 1889 N. Kolb Road Company LLC, in the transaction.
For more information, Isaacson can be reached at 520.323.5151 and Casper is at 520.323.5181. Arrotta should be contacted at 520.577.7000.
For more information on Pioneer Title Agency, go to https://www.pioneertitleagency.com/
To learn more, see RED Comp #5332.