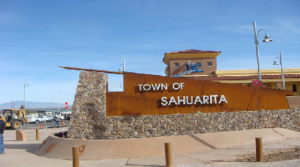 Tucson, Arizona — The University of Arizona (UA) Center for Innovation has teamed up with the Town of Sahuarita Economic Development Office to teach the community to launch a successful startup.
The Town of Sahuarita and the UA Center for Innovation launched a pilot program last year which was widely successful. The Town specifically looked for an incubator program with experience and the capacity to support entrepreneurs in a very customized fashion and a successful track record.  The UA Center for Innovation was a perfect fit and plans to continue this collaboration for at least two years to build on the early successes. This year the focus is on technology-enabled ventures with high potential for growth.  Five to six entrepreneurs (or teams) will be accepted into the Spring 2020 cohort. The entrepreneurs selected to participate in the program will receive a certificate from the University of Arizona Center for Innovation upon successful completion of the program.
Info Session and Networking: March 25, 2020
BizLaunch Info Session will take place at Pub 1922 in Sahuarita starting at 5:30pm on March 25. Community members interested startup creation will learn about the opportunity to plug into the BizLaunch program and be part of the budding Sahuarita startup scene.
BizLaunch Program: April 8 – May 13, 2020
The BizLaunch program will provide participants with the tools necessary to turn their ideas into the core of a scalable startup company. Participants will be able to utilize critical thinking skills enabling them to identify critical gaps within their environments and ideate solutions to address those gaps. Participants will showcase abilities to assess the feasibility of their ideas or ventures, build a business model and determine the resource needs required in implementing these ideas. This is done over the course of eight weeks via training course taught by the incubator The University of Arizona Center for Innovation.
BizLaunch Demo Day on May 20
Join the community as we celebrate innovation at its finest.  After six weeks of workshop training taught by the UA Center for Innovation, Sahuarita entrepreneurs will graduate the BizLaunch program. Hear directly from program participants as they publicly pitch their idea and learn about their future plans for success.
The BizLaunch program is sponsored by Freeport McMoran. Freeport McMoRan supports economic development in each community where they have a mining presence. The Freeport Foundation awarded the Town of Sahuarita a Community Investment Fund grant in 2019 to fund its BizLaunch program through 2021 as it fell within their vision of making the Sahuarita/Green Valley community a more economically sustainable region. Freeport has supported Sahuarita's Economic Development efforts in the past and are glad to be investing in this important program for entrepreneurs and start-ups within the Town.