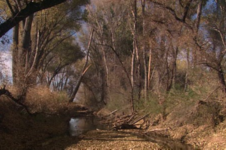 A new water project in Cochise County near Sierra Vista will slow down the flow of rainwater from the Huachuca Mountains so more of it can seep into the aquifers that feed the San Pedro River.
A system of terraced retention basins are being built in the land leading up to the river, with small dams holding the water back and allowing it to enter the underground aquifers through wells drilled in the basins.
"We've invested about a decade's worth of science asking ourselves, 'What's the most effective thing we can do to keep this Southwestern river flowing?'" said the Nature Conservancy's Holly Richter. "We came up with the answer that we need to get more water back into the underground aquifer at key locations."
"The key to the river is what's called base flow," said Bruce Gungle, hydrologist at U.S. Geological Survey. "Base flow is ground water that's consistently discharged into a river throughout the course of a year."
The goal is to take water that would normally cause the San Pedro to enter flood stage and let it work its way into the river throughout the year, keeping the river flowing in the dry season.
The project has cost just over $2.5 million. That includes purchase of land, engineering, construction, and one year of operations costs.
The Nature Conservancy bought land for the project using about $500,000 from the U.S. Army and $250,000 in private donations.
The land was then handed off to Cochise County for the construction phase.
The county paid for that with a $1.7 million grant from the Walton Family Foundation.
The hope is that lessons learned from this project will lead to creation of similar systems around the state, both for recharging aquifers and keeping seasonal stream running.
"One of the things we're hoping for is that this creates a template that perhaps we can export to other Southwest communities to help them out as well," said Cochise County Supervisor Pat Call.
Full story at Arizona Public Media