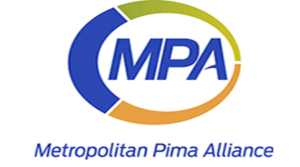 TUCSON, ARIZONA  - On Friday, April 29, 2022, the Metropolitan Pima Alliance (MPA) held its 17th Annual Common Ground Awards Ceremony at the JW Marriott Starr Pass Resort. Presented by Title Sponsor Chasse Building Team, the event honored community leaders, projects and programs that have made significant contributions toward bridging divides and finding solutions to complex challenges in creative ways.
Since the first ceremony in 2003, over 375 projects and programs have been recognized that embody MPA's mission to create a prosperous community by promoting collaborative real estate development policies, building partnerships and finding common ground.
This year's event celebrated 6 Winners and 8 Finalists, along with the Award of Distinction, provided to a large scale community impact project. A community effort, the Buffalo Soldier Memorial Plaza, was recognized for making a difference in the community.
The winners and finalists are listed below:
The 2022 Common Ground Award Of Distinction was presented to Warrior Village
The Buffalo Soldier Memorial Plaza was recognized for "Making A Difference"
The 2022 Common Ground Award Winners are:
Airfield Safety Enhancement Program

City Center Adaptive Reuse

Connie Hillman Urban Construction Knowledge Center
Sunshine Mile Urban Overlay District
Thrive in the 05
University of Arizona - Student Success District
The 2022 Common Ground Finalists are:
AZ Stitch Lab
Dove Mountain CSTEM K-8 School
Ryan Outfall Sewer
Shirley C. Scott Southeast Houghton Area Recharge Project
Solar APP+
University of Arizona - Applied Research Building
University of Arizona - Grand Challenges Research Building
Westward Look Resort Annexation and Zoning
Take a look at the photos taken the night of the event here.
More information on the event and this years projects is available at www.mpaaz.org