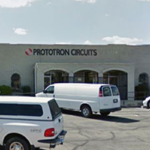 D & D Ryder, Inc. (David Ryder, President) an affiliate of Prototron Circuits, Inc. and Prototron Southwest Circuits, purchased the industrial building it has been occupying at 3760 East 43rd Place in Tucson for $1 million ($58 PSF). The 17,175-square-foot building, built 1976, was sold by RCDK Realty I, LP (Raymond M Chavez, manager) and sits on slightly over an acre in Caylor Industrial Park.
Prototron Circuits, Inc. based in Redmond, Washigton, started operations in July of 1987 to serve the local electronics manufacturing community by providing a source for quick turn Printed Circuit Boards. Printed Circuit Board manufacturers typically were offering completion of orders within a 4 to 6 week time frame. Prototron Circuits made a commitment to offer much quicker and more flexible delivery schedules, typically 5-working days and as fast as 1-day. This commitment drew attention from the local electronics industry's research and development departments as a service that operated as an extension of their business. This service has brought about a partnership with the industry that is relied upon to rapidly develop today's newest technologies.
As a Printed Circuit Board Manufacturer, Prototron Circuits strives to make technological advances based on the demands and changing requirements of its customers and technology. These advances have included the manufacturing of multilayer printed circuit boards, up to 30 layers, minimum trace width's of 0.003″, minimum drilled hole diameter of 0.006″, and optional plating finishes such as full body and immersion gold. In 1996, Prototron added a photo-plotting and CAM/Engineering department to further assist our customers with concurrent engineering via CAM software to ensure quality before a design is released for manufacturing.
In January of 1997, Prototron Circuits acquired Cir-Quick, Inc. of Kirkland, Washington making Prototron the largest prototype printed circuit board manufacturer in the Northwest with over 25,000-square-feet of manufacturing space.
In January 1999, Prototron Circuits acquired Southwest Circuits, Inc. of Tucson, AZ. The newest member of the Prototron family and started doing business as Prototron Circuits – Tucson. Prototron Circuits – Tucson is a MIL-SPEC shop offering our military and commercial customers fast-turn capabilities with experience in manufacturing Teflon, Duroid, PTFE and other specialty materials.
The company employs approximately 45 people at this location.
For more information, Ryder can be reached at 520.745.8515.
To learn more, see RED Comp #3873.