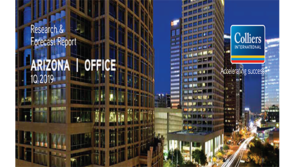 Phoenix, Arizona — Colliers International of Greater Phoenix is reporting, fresh off a banner 2018, Phoenix saw continued growth in the first quarter. During the 12-month period ending in February, preliminary estimates show that employers added nearly 64,300 net new jobs, an increase of 3.1 percent which places Greater Phoenix #2 in overall job growth for the country.
According to the BLS (Bureau of Labor Statistics), over the year, nonfarm employment rose in 25 of the 51 metropolitan areas (with a 2010 Census population of 1 million or more), while employment was essentially unchanged in 26 areas. The largest over-the-year percentage increases in employment in these large metropolitan areas occurred in Orlando-Kissimmee-Sanford, FL (+3.9 percent), Phoenix-Mesa-Scottsdale, AZ (+3.1 percent), and Nashville-Davidson–Murfreesboro–Franklin, TN (+3.0 percent).
Overall the Greater Phoenix office market had a strong first quarter, net absorption increased to approximately 850,000 which was the second highest first quarter reading in the last seven years. Employers continue to add workers at a very active pace, fueling tenant demand for office space and fueling new development.
Despite increased deliveries, tenant move-ins still outpaced new construction which drove vacancy down to 13.6 percent, 160 basis points (bps) lower than one year ago. Continued vacancy declines are supporting rent growth with asking rents ending the first quarter at $25.63 per square foot, up nearly 5 percent from one year ago.
Investment sales volume increased 19 percent to $387 million across 48 transactions. The median price per SF remained flat at $147 with cap rates at 7.1 percent.
Outlook:
The outlook for the Greater Phoenix office market remains bright as local businesses continue to expand and new companies continue to bring operations to the Valley. According to GPEC's (Greater Phoenix Economic Council) YTD FY2019 Overview, they have assisted in bringing 31 companies to the Valley which added 6,524 new jobs to the region with an average wage of $55,728.
Strong job growth is supporting demand for office space, and with the overall vacancy rate tightening, new development is gaining momentum. Projects totaling more than 2.2 million are under way and development of new projects, or additional phases of current projects, will likely enter the development pipeline in the coming quarters.
On a macro level, in January, as a result of substantial market volatility at the end of 2018, not only did Chairman Powell reverse course on Fed balance sheet reductions, he, as well as other Fed governors, decided to stop ongoing interest rate increases leaving rates at their current 2.5 percent.  In a sign of a more dovish Federal Reserve moving forward, Stephen Moore, President Trump's recent pick to serve on the Fed, called for an immediate 50 bps decrease in interest rates to counter both tariffs and growing financial instability, particularly from slowing growth in China and Europe.
The net result, markets remained robust for most of the first quarter and the drag on real estate prices many were expecting, as a result of rising rates, has not materialized. With a more dovish Fed, and more talk of QE 4 (Quantitative Easing), expect elevated demand for commercial real estate assets to continue.
To learn more see Colliers Q1 Office report here: 2019-1Q-Office_Arizona-Report-Colliers