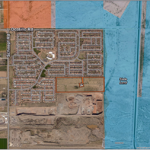 Queen Creek, AZ – Queen Creek Sierra Vista Dr, LLC (Andrew Jackson) paid 1.6 million cash to acquire +/- 47.88 Acres southest of the southest corner of Schnepf and Ocotillo Rd, in Queen Creek, AZ.
Jackson will expand his current sand and gravel operation on the site.
Langley Castlegate, LLC (Stacy Brimhall, Steve Rees) was the seller in the transaction. Ken Reycraft and Rich Stone from City To City Commercial Real Estate of Scottsdale, AZ brokered the transaction.