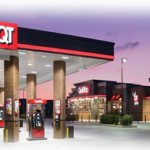 After two years of negotiations and three transactions, QuikTrip has completed the assemblage of 2.47 acres (107,779 SF), a full city block, at the northwest corner of Fort Lowell and Alvernon Way in Tucson.
Desert Streams & Waterfalls, Inc. (Michael Coffey, president) sold its 40,963-square-foot contractor yard, with a 666-square-foot building at 3232 N Winstel Blvd. for $425,000 ($10.38 PSF) to QuikTrip. The water feature contractor relocated the business a few blocks west of this location.
Tony Marrs with AW Marrs of Tucson represented the seller in this first leg of the transaction and assisted the other legs to follow.
Pet Associates, LLC (Richard Tofel, manager) sold The Catalina Plaza, with Catalina Pet Hospital, at 3801 East Fort Lowell for $1.9 million ($47.96 PSF). The 10,000-square-foot building sits on a 39,614-square-foot lot that sold to QuikTrip for land value.
The seller / occupant, Catalina Pet Hospital, plans to relocate across the street to a new build-to-suit being built by Rio West (Walter Hoge).
To complete the assemblage, Pima County sold 3 parcels along Alvernon Way for $206,000 ($7.57 PSF) to QuikTrip. These three parcels completed the full city block from Fort Lowell to Farr Place and Alvernon Way to Winstel Blvd that will allow QuikTrip entry from all four sides when it uses the property to construct a QuikTrip Convenience Store and Gas Station.
Trinity Bookstore, a tenant at Catalina Plaza that has been in that Ft. Lowell/Alvernon center for many years has leased +/-2941-square-feet at San Francisco Square, 3912 N. Oracle Road, Ste. #104. The landlord was represented by Nancy McClure, CBRE, and Tenant was represented by Alain Hartmann, Hartmann Commercial Real Estate, and Howard Druch.  Trinity Bookstore will relocate once the space's interior construction is completed.
The Catalina Pet Hospital will remain in property until its new building is constructed so construction of QuikTrip is anticipated in about a year.
For additional information, Marrs can be reached at 520.465.0455.
To learn more, see RED Comp #4034 and 4093.