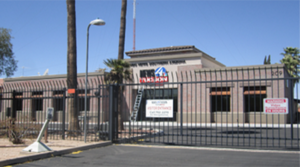 TUCSON, Arizona — Quincy Media Inc. (QMI), the owner operator of The Herald-Whig and WGEM-TV/Radio has completed purchase of KVOA-TV, the NBC affiliate serving Tucson area. The 35,021-square-foot building and transmission towers at 209 West Elm Street in Tucson sold for $2.2 million ($63 PSF).  Built in 1971, the building sits on 2.95 acres located between Oracle Road and Stone Avenue on West Elm Street.
KVOA seller was Cordillera Communications who announced in October 2018 the sale of all their television stations. This acquisition will extend QMI ownership to 15 television markets.
"We are very excited to acquire this great station," said QMI President/CEO Ralph M. Oakley. "KVOA is very involved in the communities it serves, is family owned and very much like Quincy Media operates with a similar philosophy of community service and responsible journalism."
KVOA is the market leading station in Tucson which is the 73rd television market and will be QMI's largest. It is the company's 10th NBC affiliate. The acquisition was subject to the approval of the Federal Communications Commission.
The company began as Quincy Newspapers Inc. in 1926, the result of the merger of the Quincy Herald and the Quincy Whig. It entered the broadcast business in Quincy in the 1940s and 1950s. The company changed its name Quincy Media Inc. in 2016.
The FCC in April 2019 gave its consent to Cordillera Communications' plan to exit the broadcast television industry, some 33 years after entering it.
As such, the closing of Cordillera's other 15 of its 16 stations will come soon to The E.W. Scripps Co.
To learn more, see RED Comp #6766.